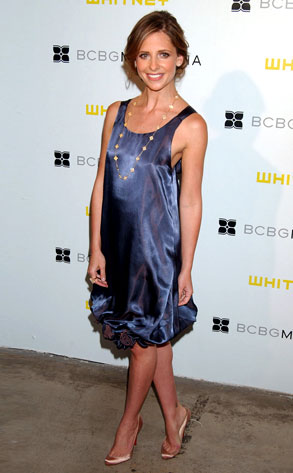 Sharkpixs/ZUMAPress.com
Buffy's ready to stake out some prime-time real estate again.
Sarah Michelle Gellar is set to star and executive produce the new HBO ensemble series The Wonderful Maladys, about three dysfunctional (are there any other kind in TV Land?) adult siblings living in New York and struggling to deal with the loss of their parents years ago.
Creator Charles Randolph tells Variety that he wrote the part with Gellar in mind. She'll play a woman with "a kind of zealous immaturity—like a drug addict with a to-do list."
Gellar, 31, next appears on the big screen in the romance thriller Possession, about a woman whose life begins to unravel after a tragic car crash. She just wrapped the drama Veronika Decides to Die, playing a woman who fails to commit suicide and winds up in a mental hospital in terminal condition.
The Wonderful Maladys will start shooting early next year.
In the day's other casting news:
Harkening back to his Down and Out in Beverly Hills days, Nick Nolte has signed on to play a philosopher vagabond in the indie coming-of-age road movie Arcadia Lost. The Phedon Papamichael-helmed drama follows two teen stepsiblings (Haley Bennett and Carter Jenkins) who wander the Greek countryside and encounter Nolte's character, a mystical expat.
Mehcad Brooks, Todd Lowe, Deborah Ann Woll and Michelle Forbes, all of whom recently had guest turns on Alan Ball's HBO vampire drama True Blood, will return as regulars starting in the second season.
Hong Kong actress Maggie Q, who kicked Bruce Willis' butt in Live Free or Die Hard and went head-to-head with Tom Cruise in Mission: Impossible III, has signed on to headline The Warrior and the Wolf, a historical action epic directed by acclaimed Chinese filmmaker Zhuangzhuang Tian (The Blue Kite). The movie, centering on two warriors in ancient China, hits theaters next year.