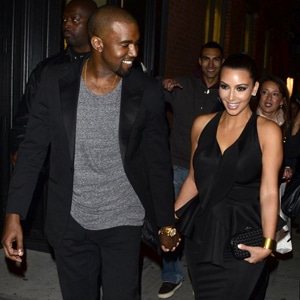 JD/FameFlynet Pictures
Kinda makes moot any overanalyzation of her jewelry choices now, doesn't it?
While Kim Kardashian and Kanye West certainly like to keep us guessing, they seemingly all but came out with it last night, going public and proudly showing off their new relationship for all the world (or at least the world's paparazzi) to see by holding hands while leaving the opening celebrations of Scott Disick's new restaurant in New York.
And it seems their handsy behavior wasn't an outside-only endeavor.
Inside, the duo seemingly got just as cozy, as Kanye draped his arm across the reality star while they sidled up to Disick and Kourtney Kardashian.
Albert Michael/startraksphoto.com
It seems to end any lingering doubts about the nature of their relationship, though those were pretty much squashed earlier in the day, when photos emerged of the 31-year-old donning earrings with the initials "K" and "W."
In any case, the 34-year-old rapper already seems to have breezed past one relationship hurdle, having clearly ingratiated himself to the Kardashian family.
At last night's opening of RYU, Kris Jenner told E! News that the male half of Kimye is "a great guy."
Earlier in the week, Khloé Kardashian Odom revealed that West spent the weekend with the family and had a "double, triple, foursome date...whatever. He's great with the family, but again we've known him for so long, it's easy. It's not like some stranger getting into some hurricane."