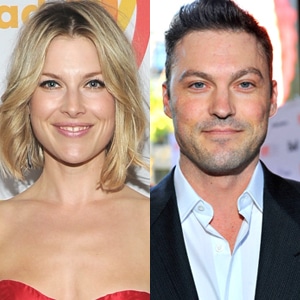 Michael Buckner/Getty Images; George Pimtentel/WireImage
Pregnant Megan Fox need not worry about the steamy time hubby Brian Austin Green recently spent with Ali Larter.
It was all in a day's work…
Larter, 36, tells me that she has a sex scene with Green, 38, in the pilot for the drama The Asset. "It was fantastic," she told me at the GLAAD Media Awards.
The former Heroes star plays a CIA agent who goes undercover as a photojournalist.
"There are lot of very sexy, dark, disturbing situations," Larter said. "It's very complicated. It's just very dark, so we'll see if it goes or not. Fox [the television network, not Megan!] may be a little bit scared of it."
Sounds like something we'd love to watch.
Meanwhile, Larter gushed about her and husband Hayes MacArthur's 16-month-old son, Teddy.
"We just took a trip for a week and stayed in a cabin," she said. "It was beautiful because we got to show him snow. At first his hand burned a little, but then he was eating it…He's also talking a lot—a lot about crackers, airplanes and helicopters."