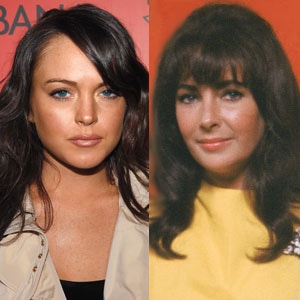 WireImage, Hulton Archive/Getty Images
Yesterday, it was officially announced that Lindsay Lohan will play Elizabeth Taylor in the Lifetime biopic Liz & Dick.
And while we've already given our stamp of approval, many of you readers are less than thrilled. There were some pretty harsh comments dissing the oft-troubled star, and it's clear plenty of you don't believe Lindsay has what it takes to play the Hollywood legend.
So perhaps it will make some of you Lindsay malcontents just a tiny bit happy to learn what a difficult time producer Larry Thompson's had insuring his controversial star:
"Well, we have more than a Plan B actually," Thompson revealed in an exclusive interview with E! News, "[because] Lindsay Lohan may be the most insured actress that ever walked on a soundstage."
Watch:
Producer Talks Casting LiLo as Elizabeth Taylor
Thompson declined to specify what the plan was, exactly. Megan Fox on standby? Who knows, but at least the dude's got another option!
Shocked? Well, ya shouldn't be—technically, any actor can be insured—Linds just holds a higher price tag based on her volatile past. Think along the lines of Robert Downey Jr., another actor who once had remarkably high insurance rate because of his high-risk behavior.
Thompson also admitted to moving the shooting location from Canada to L.A. in order to "minimize some risk," but it's clear he's still confident in his casting decision, specifically pointing out Lindsay's softer side of "vulnerability" needed to play the highly emotional legend.
"Now if I learn to regret it sitting here today I think it is still for the movie a great risk to run."
Lohan, for her part, says, "I have always admired and had enormous respect for Elizabeth Taylor. She was not only an incredible actress but an amazing woman as well. I am very honored to have been asked to play this role."
Added Thompson: "[Lindsay's] really excited by the challenge. She has a noble purpose; it's not like she's going to go do a little job—the responsibility of playing Elizabeth Taylor is large."
Totally. Almost as large as the insurance premium!