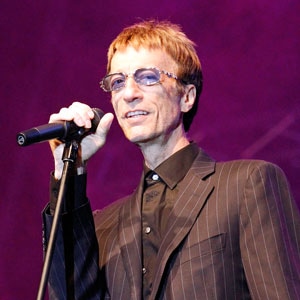 Frank Hoensch/Getty Images
Robin Gibb has beat the odds yet again.
Just a week after the 62-year-old Bee Gees singer fell into a coma after contracting pneumonia during his fight against colon and liver cancer, Gibb woke up and has shown "remarkable" signs of recovery, E! News has confirmed. 
Gibb's doctors released a statement saying they are "confounded" by his "indomitable fighting spirit and remarkable physical endurance."
"Robin is fully conscious, lucid and able to speak to his loved ones," Dr. Andrew Thillainayagam said. "He is breathing on his own, with an oxygen mask. He is on intravenous feeding and antibiotics."
Gibb's spokesman Doug Wright told the Daily Mail the musician has been able to nod and communicate with family members who have remained by his bedside in a London hospital, even saying "Hello RJ," to his son when he woke.
So, just how did Gibb go from claims of a "spectacular recovery" in February to a coma?
Athough Gibb had responded well to the aggressive chemotherapy treatment he had received for advanced colorectal cancer, he eventually developed pneumonia while he was recovering from a "life-saving surgery" for peritonitis (an inflammation of the tissue that lines the inner wall of the abdomen and covers abdominal organs).
And that was when his health spiraled downward.
The "Stayin' Alive" crooner's prognosis was considered to be "grave," and he was transferred to intensive care and placed on artificial ventilation after failing to respond to chest physiotherapy and intravenous antibiotics. 
Gibb not only had pneumonia, but he also had brain swelling from liver failure and a weakened immune system from malnutrition. The situation appeared to be so dire that just days ago, the physician told Gibb's family he was fearful the music legend would not recover.
"It is testament to Robin's extraordinary courage, iron will and deep reserves of physical strength that he has overcome quite incredible odds to get where he is now," Dr. Thillainayagm went on. 
While the physician said the road ahead for the "exhausted, extremely weak and malnourished" Gibb is still uncertain, their immediate goals are "to ensure that Robin's swallowing mechanism is safe enough to allow him to eat and drink, and that he recovers enough strength to breathe effectively, without needing high levels of oxygen by mask. When this happens, we will be able to begin the process of nutritional and physical rehabilitation and may be able to move him from the intensive care unit to the ward."
Meanwhile, Gibb's family has refused to give up hope.
His wife, Dwina, sons Robin-John and Spencer and daughter Melissa have been at the hospital every day, playing him his favorite music and talking to him.
—Reporting by Holly Passalaqua