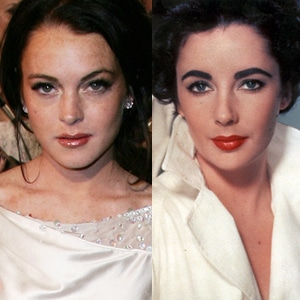 Tony Barson/WireImage; MGM
Congratulations, Lindsay Lohan. Gal can finally update her IMDb profile with the role of a lifetime (literally)—she's officially set to star as Elizabeth Taylor in the Lifetime movie, Liz & Dick.
There's been mucho speculation for sometime that Linds would take on the iconic role (including some less than subtle hints from the actress herself), but rumors swirled her reputation and her now-completed probation were seriously affecting her chances.
Not so, insists executive producer Larry Thompson, who exclusively revealed to E! News that Lindsay's "perfect" for the part.
So, what's got Larry believing in LiLo and taking a risk with her far-from-flawless past?
"We have wanted Lindsay from day one," Thompson tells E! News in an exclusive interview. "She had a lot in her life that was going on. We needed to give her time to take care of her business, and while we negotiated the deal for her we prayed for her—and wonderfully she has behaved. She's cleared herself and we're ready to start this movie."
What a relief (no doubt LiLo's thrilled). But while Lindsay has cleared her legal slate, she's far from perfect in the public eye, so we have to wonder why, exactly, Thompson felt he could trust the notorious starlet:
"We truly feel that Lindsay Lohan is perfect for Elizabeth Taylor for our movie….I think Lindsay—who is very gifted—deserved another chance," Thompson explained. "We never, of three pages of 'what if's' in the negotiation, there never was 'what if she can't act.' We know she can act."
Yeah, so do we. At least, we did back when Cady Heron (Mean Girls, obviously) took the big screen by storm. This will be Lindsay's first leading role since 2009's Labor Pains and we can't say it enough—gal has iconic shoes to fill.
But like Elizabeth, Lindsay has more gusto than people normally give her cred and it's clear Thompson truly believes in Lindsay's Liz-like qualities:
"We could hire actresses that would be great and people would watch it, but I think that Lindsay brings to Elizabeth Taylor and to our project that sparkle of magic, that sparkle of today," Thompson reveals while tearing up and recounting the emotional rollercoaster of casting the less-than-perfect LiLo.
"She is today what Elizabeth Taylor was in her life during the time that our movie will cover. I think, while there are a lot of people who know Elizabeth Taylor and Richard Burton, Lindsay will bring a young audience to our movie who might not otherwise know who they are."
Linds, we've said it before and we'll say it again: we adore you for this role and think you have that Elizabeth Taylor 'tude down to a tee.
Here's your ultimate chance for a comeback, babe, we seriously hope you do the Hollywood broad the justice she deserves.
Filming for the flick will begin June 4 and the movie's set to air on the cable network in October.
Do you think Lindsay can pull off this role? Tell us your thoughts in the comments!