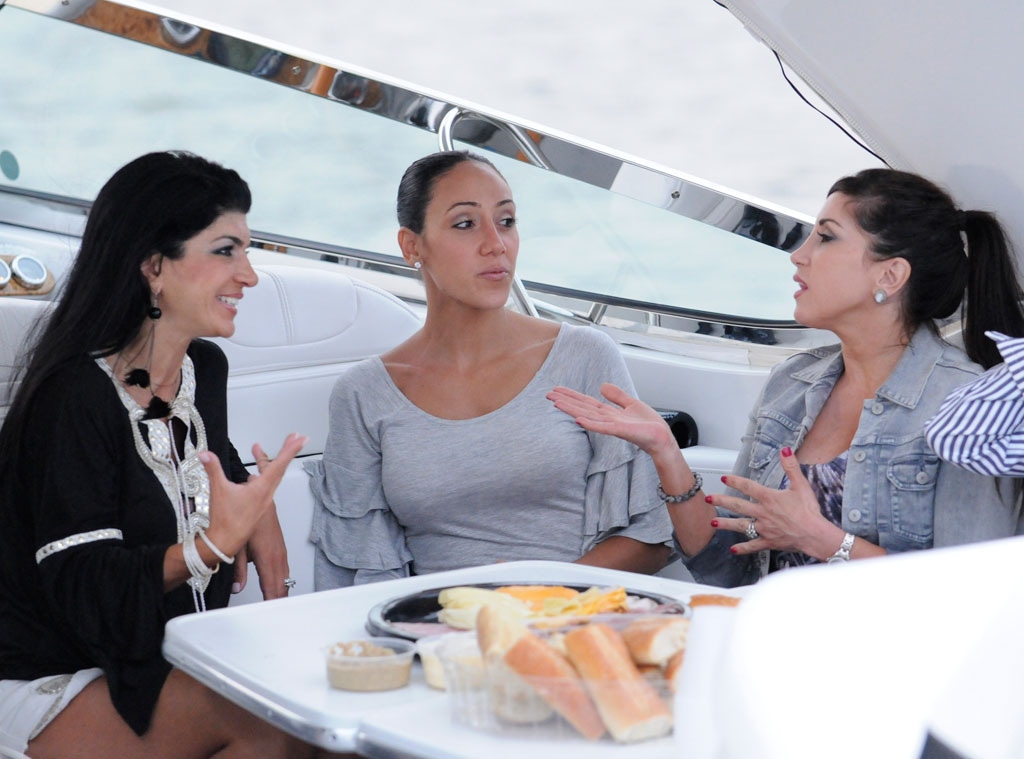 Andrei Jackamets/Bravo
There's nothing the Real Housewives of New Jersey seem to love better than catering for a crowd, cutting each other down or taking a trip to the Shore. And tonight's season premiere has plenty of all three.
Months may have passed since season three's dramatic reunion show, but the women of Franklin Lakes are still dealing with the fallout from Teresa Giudice's cookbook. Or as Christopher Manzo puts it at a family chow-fest, "I was just at the Olive Garden so I'm full."
So here's an honorary fist pump to the ladies of the Garden State and their horny, half-dressed hubbies. Now, lets get this recap action rolling!
Apologies may be harmful to Teresa's health (i.e., you're not getting one). "This is not healthy for me. Do you feel this?" she says clutching her heart while discussing her cookbook digs at Caroline Manzo and her family.
But Caroline's not moved. She goes all Jedi master on Teresa, staring her down without saying a word. "You have to pick your battles so I'd rather just co-exist," she overdubs. Smooth move, mama Manzo. We almost start talking to the TV screen just to fill the awkward silence.
Meanwhile, everyone's getting ready for some sun-filled days at the Shore. Which includes packing the sex toys, lube and leopard-print bikinis.
"I just love every part of the Jersey Shore. Ripped bodies. Coconuts. That does it for me," says Kathy Wakile, (sounds a lot like the adult version of GTL).
Joe Gorga's also looking to get his groove on with a special soundproof master bedroom "so nobody can hear what mommy and daddy are doing. There's going to be a lot of Gorgasms happening."
Nice try, Joe. Next time, may we suggest providing hardhats for the construction zone that is your "redone" Jersey Shore renovation project. And don't try to tell us that funky green pool would clear any safety standards.
"For the record," says Melissa Gorga, "Joe's probably not going to release any poison this weekend!"
Ditto Joe Giudice after the cussing car trip from hell that goes something like this:
"No, so shut up. Don't give me a kiss"
"Bleep this."
"It was business Gia so shut up. Keep your nose out of my business."
But no matter what Teresa's husband grunts, he can't top eight-year-old Milania's dig at big sis' Gia: "Yeah, you stupid whore."
That's daddy's girl.
Family relations are equally strained at the Laurita house where Jacqueline and Chris are tired of getting drunk-dialed every time Ashley goes into the city.
One life-coach session later (what is it with Bravo stars and their onscreen therapy?!) and Chris threatens to kick Ashley out if she doesn't follow his clean-up-your-life plan: a trip to Las Vegas.
"I'm going to throw up," Ash says at the idea.
Wait up. Ashley's options are Vegas or homeless? This is the tough love choice being handed down to her?!
We are officially offering ourselves up for adoption to the Laurita family. One all-expenses trip to Sin City in exchange for being a dutiful daughter…where do we sign up?
So what did you think about tonight's episode? Were you disappointed the ladies hadn't moved past last season's petty grievances? Did the randy road-tripping help or hurt the Jersey Shore's already fragile reputation? And which sulky cast-member is most in need of a reality check: Joe Giudice or Ashley? Weigh in on all the Jersey action in our comments section below!