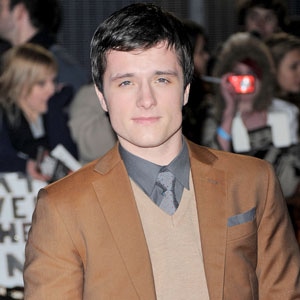 Stuart Wilson/Getty Images
Hunger Games star Josh Hutcherson had two uncles he never got to know.
Both men were gay and died from AIDS during the height of the epidemic…
"They were in their early thirties, in great shape, but unfortunately they were taken away from us too soon," the 19-year-old actor exclusively told me Wednesday. "Both passed away at about the time I was born."
But they have never been forgotten.
Hutcherson has become one of Hollywood's most outspoken supporters in the fight for gay equal rights. He works closely with Straight But Not Narrow, a group started by his best friend, Victorious star Avan Jogia.
"My mom has always been a big advocate, especially in the gay, lesbian, transsexual and bisexual community so for me it's always been a part of my soul," Hutcherson says.
He recalls a letter that Straight But Not Narrow received from a 14-year-old high school freshman in Florida. "He was in this very right wing and religious sort of area and he sent a letter saying how SBNN changed his life and how he was able to feel more comfortable coming out to his friends," Hutcherson says. "I was almost bawling reading it. That makes all our work worth it."
On Saturday, Hutcherson will be become the youngest recipient of the Vanguard Award at the GLAAD Media Awards in Los Angeles. He joins a stellar list of past honorees, including Elizabeth Taylor, Charlize Theron and Janet Jackson.
"This is what my family is most proud of and the same for me," Hutcherson says. "Acting is one thing, but actually trying to change the world and the way people think to make people's lives better? That's the stuff I'm most proud of."
When I ask if he thinks his uncles are looking down at him, Hutcherson says, "I'm not a religious person in that sense. But at the same time I do believe in some sort of something, just not sure exactly. But yeah, I'd like to think that they see what I'm doing and that they're proud of me."
No doubt they are.