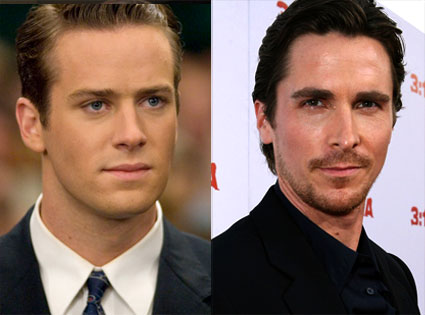 Katherine Bomboy, Alexandra Wyman/Getty Images
Watch out, Christian Bale—there's a new Batman coming to town!
His name is Armie Hammer, an unknown actor handpicked by Mad Max and Happy Feet director George Miller to play Bruce Wayne and his Caped Crusader alter ego in the upcoming superhero-filled Justice League Mortal.
Hammer insists he has not intention of stirring up a battle of the Batmans. "That guy's got his s--t down," Hammer says of Bale.
Even so, Hammer does point out that there's at least one big difference between the two. "My codpiece is bigger," he said with a laugh the other day from Vancouver, where he's shooting the CW's The Reaper (he plays the son of the devil).
While there have been reports that the Justice League flick has been shelved because of too many setbacks (including the writers' strike), Hammer says he hopes to see it get made...
They were supposed to shoot in Australia, where Hammer and his castmates suffered through several months of physical training.
"I would spend hours training with actual guns to prepare me for this stuff," Hammer said. "It was very intense. Our workout regimens were so rigorous that most of us would vomit."
He added, "We weren't trying to get ourselves aesthetically good looking. We were trying to get ready for the demands of shooting."
Not that the 22-year-old great-grandson of oil tycoon Armand Hammer has anything to worry about in the looks department. At 6'5" with a smile and hulking body to match, he has movie star written all over him.
He's already been fitted for the superhero costume, which he says features functioning equipment, including trademark Batman weapons like spring-loaded titanium Bat-erangs. "I was looking down, and I was thinking, This is the best," Hammer said of the first time he put on the entire ensemble. "Then I stood up, and they turned me around, and I faced a mirror—there was Batman. But then it hit me like a ton of bricks—it's not just Batman, it's me!"
For now, Hammer is working on spreading the word on a much different project. He stars as the Rev. Billy Graham in Billy, an independent film about the religious leader's early years costarring Bionic Woman star Lindsay Wagner as his mother and Martin Landau as a lifelong friend.
Hammer hasn't met the 89-year-old Graham yet, but he's been told the movie has his blessing.
"It's one of the more terrifying and intimidating things," Hammer said about playing arguably the world's most famous Christian evangelist. "If I go up there and portray Billy Graham not exactly as Billy Graham, there are a billion people on this planet who will say, 'That's not Billy Graham!' "