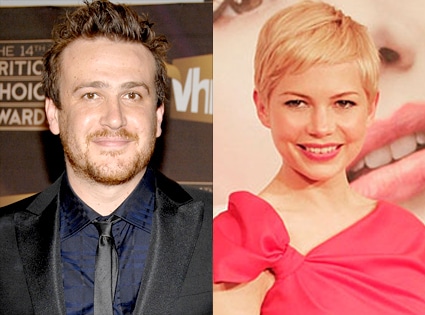 Christopher Polk, Adam Pretty/Getty Images
He won't be forgetting Michelle Williams anytime soon.
Funnyman Jason Segel has remained tight-lipped about his relationship with the My Week With Marilyn star, but he clearly declared his affection for her recently by taping her photo to his iPhone. (How charmingly analog!)
Now, he's got the words to back that up!
That's right, Segel is finally opening up about Williams, and the normally chatty actor decided to keep it sweet and simple...
"I think I would just very much like to be happy," he told Extra when asked about Williams while promoting his new flick, The Five-Year Engagement. "That's all I'm going to say about it."
Costar Emily Blunt happened to be sitting next to him, and apparently she had something more to say about it!
"He's a man-boy!" she teased. "He was a boy-boy and now he's a man-boy."
Of course, the witty comedian wouldn't let a quip like that go scot-free, and he had a punchline ready.
"I might even be becoming a man-man... potentially!"
Last month, Segel and Williams were snapped holding hands as they strolled around New York City, and the Forgetting Sarah Marshall star has even hung out with Williams and Heath Ledger's 6-year-old daughter, Matilda.
We can't think of a more adorable couple we're pulling for!