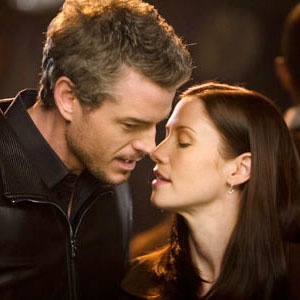 ABC/RANDY HOLMES
Curse you, Shonda Rhimes and your ability to toy so carelessly with our emotions!
So which of the ABC mastermind's couples is Rhimes giving us anxiety over this time? Why, it's Grey's Anatomy's Mark and Lexie, of course! We've got some intel on the couple that might not be music to their (many) fans' ears.
Plus, who's the new lady catching Dexter's eye on Dexter? And which two Revenge-rs are in serious danger when the show returns? We've got all that and scoop on Big Bang Theory, Pretty Little Liars, Raising Hope and more in today's edition of Spoiler Chat, so what are you waiting for?
lilice94: Is there good news for us Lexie and Mark shippers?
"Julia asks Mark to start a family with her," this certainly sounds like bad news for the May 3 episode. But us Grey's Anatomy fans are gluttons for punishment and we can't even begin to imagine that the last tension-filled elevator ride was the end of Mark and Lexie. We might be delusional TV optimists, but keep your fingers crossed for a season-end reunion. It's bound to happen at some point, right? Right?
Nazzanation: Do you have any info you haven't already given us on Revenge?
How about that Declan is forced with the task of choosing to send either Jack or Daniel to prison when he's called to the witness stand in Tyler's murder trial? "Am I going to lose my brother or are you going to lose yours?" Connor Paolo tells us of Declan and Charlotte's totally typical teenage relationship dilemma. Also? We're hearing the too-cute couple is heading for Splitsville very soon.
Sammi_rose23: Will anything big happen between George and Zoe by the end of the season?!
Next Monday's episode of Hart of Dixie will be a very important one for George and Zoe as they take a little trip to New Orleans together, which, as we all know on TV, is a pretty big deal for almost-couples. However, George and Zoe fans might not like this tease, courtesy of Wilson Bethel: "I think fans will be happy with where Zoe and Wade end up at the end of the year," he says. "The way that it's possibly set up for the possibility of a second season, there's going to be a lot of Wade and George issues!"
David in Smithtown, N.Y.: You never give us any Dexter spoilers! Rude much?
We'll ignore the tone of your question, young man, and provide you with what you desire: Look for a recurring character named Hannah to join the show who's described as sexy, dangerous and a force of nature. She's got quite the past but is trying to put it behind her…until she meets Dexter. We're thinking she's going to have quite the affect on our resident serial killer considering there's a strong possibility Hannah will appear in season eight as well.
Eric: Any scoop on The Big Bang Theory's big wedding?
Um, we hope you have the receipt for the wedding gift you bought Bernadette and Howard, because what we have to share doesn't make the couple's wedded future sound promising. "I don't know if they're actually going to make it down the aisle, so I don't know if all the wedding planning has been for naught," Melissa Rauch tells us. "Whatever does happen, there's a lot of love between Howard and Bernadette, so I'm hoping that does withstand whatever does go down."
ABC FAMILY/ERIC MCCANDLESS
Madison in Hoboken, N.J.: I need any and all scoop you have on the new season of Pretty Little Liars and I need it now!
"We are starting back five months later. Mona will have been at the Radley sanitarium and you'll find out a little bit more about connecting the dots and how she did things," Janel Parrish says of the season premiere in June. As for whether or not Mona is just one person on a supposed "A" team? "I know a little bit more," she teases. "You'll find out in the beginning of season three."
Sarah in Seattle: So excited for Alicia Silverstone's debut on Suburgatory! Got any information on the Clueless reunion?
Elton finally gets his kiss from Cher…if you just change the name Elton to George and Cher to Eden, but it's the kiss that counts! "We do make out. We do have a really nice kiss," Jeremy Sisto says. "I finally got my kiss from Cher after all these years!" Sisto also teases that Clueless fans can expect "a few winks" to the classic movie in Wednesday's episode. Five bucks says Eden found the long-lost Cranberries CD in the quad!
creata2220:  Any info on the shocker on Raising Hope?
Was your mind blown by the shocking return of serial-killer mama, Lucy? Crazy, right? We love crazy Lucy, so we are thrilled to see Bijou Phillips back making trouble and all. In tonight's finale, you'll find out how she survived, why she is suddenly back and what Ed Begley Jr. has to do with all of it.
—Additional reporting by Tierney Bricker and Christina Dowling