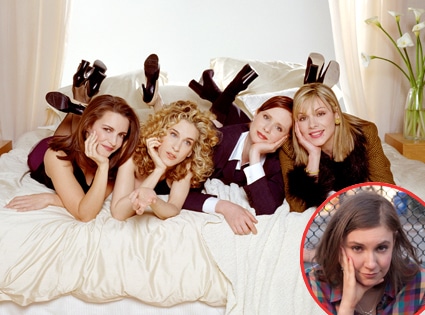 HBO
Paging, Sarah Jessica Parker!
Some Girls would like to see you…
Lena Dunham, creator of HBO's new angsty hit, says she would totally love to see the gals from Sex and the City pop up on her show.
"We acknowledge that this show couldn't exist without Sex and the City," Dunham told me when Girls first premiered last month at South by Southwest. "These are girls who were raised on Sex and the City. It's a part of why they're all moving to New York."
But SJP & Co. wouldn't have to work too hard. "Maybe we can have something like Miranda [Cynthia Nixon] drinking a smoothie and walking by the gym," Dunham said. "But maybe it's something you save for the series' finale. You know, it's this amazing moment where they're just sitting at a table in the background."
Besides, Dunham, cracked, "I feel like they probably come with a hair and makeup team we can't afford."
Hopefully that will change in the seasons to come.
Now we want to hear from you. How much fun would it be to see Sarah Jessica Parker appear on Girls? Or maybe not so much? Chime in below.