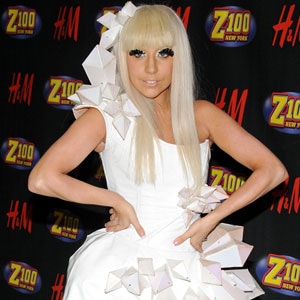 Bryan Bedder/Getty Images
Harrumphing fans want Lady Gaga to eat her words.
The pop star is being ripped by twitterazzi after she tweeted a hashtag earlier this week saying that pop stars don't eat, quickly prompting fired-up critics to accuse her of glorifying anorexia.
But what exactly did she write to incite such an appetite for anger?
"Just killed back to back spin classes," Gaga tweeted. "Eating a salad dreaming of a cheeseburger #PopSingersDontEat #IWasBornThisWay."
The post immediately racked up a barrage of livid responses.
One user wrote, "dear @ladygaga, you just blatantly endorsed anorexia to over 22 million followers. how do you sleep at night?" while another wondered, "@ladygaga pick a side... Do you want to promote beautiful and healthy kids, or anorexia?"
One ex-fan added, "unfollow @ladygaga 4 her ignorant and stupid message to her fans #popsingersdonteat wow ur a role model act like 1 dont praise anorexia wtf?"
Even the National Eating Disorders Association weighed in, tweeting, "Huh? This is the same person who recently implored girls to stop dieting?"
Gaga herself 'fessed up to suffering from an eating disorder early in her career, but has since been an outspoken advocate of healthy eating and youth empowerment.
Guess that vow of media silence she said she'd take didn't do much to stop Gaga from cooking up hearty servings of headline-grabbers.