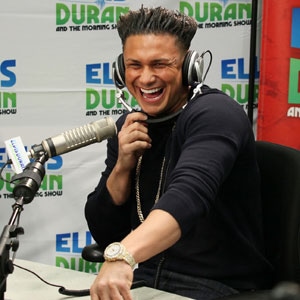 Neilson Barnard/Getty Images
We're guessing today isn't the best day of  Pauly D's life.
According to legal documents obtained by E! News, Paul DelVecchio Jr.'s former talent agency International Creative Management filed a lawsuit at L.A. Superior Court today, alleging the Jersey Shore star owes them $370,000 in back commission for the past two seasons of the show, plus 10 percent of whatever he makes in season six.
Wait, how much does Pauly make, anyway?
A lot more than you might have assumed.
The agency points out that Pauly D is supposed to rack in $150,000 per episode for this upcoming 12-episode season, totaling his cash roll to around $2.1 million (he can definitely expand his sneaker collection with that kind of money).
ICM alleges they began representing Pauly during the first season of Jersey Shore and negotiated numerous lucrative deals for him and his company Blowout Enterprises.
The reality star parted ways with the agency in May 2011, which ICM notes in the complaint, saying, "No deed goes unpunished, however, and DelVecchio ultimately terminated the representation."
But they also claim, "standard custom and practice in the entertainment industry that talent agencies are entitled to post-termination commissions on all deals they negotiate for their client."
Pauly D's legal counsel, Hillary H. Hughes and Attorney Garvey Schubert Barer tell E! News, "We are surprised by ICM's contention that it is due commissions after ICM was terminated in favor of William Morris Endeavor. ICM was paid for its services. It is even more disappointing that an agency like ICM would choose to take advantage of its former relationship with a client and disclose his confidential business affairs to the public in disregard of any duties it owes as a talent agency."