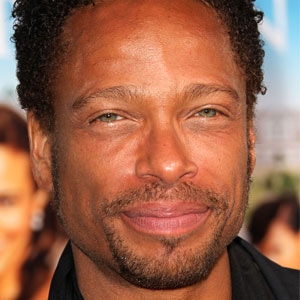 Frederick M. Brown/Getty Images
Gary Dourdan is looking forward to clearing his name.
A trial date has been set for the case involving the ex-CSI star in which his former girlfriend claims the actor broke her nose after an altercation at his Venice home last year.
However, Dourdan and his attorney appeared to be pleased this morning in a Los Angeles courtroom that the case will go before a jury to prove his innocence.
"I have been waiting a long time and I haven't had a voice," Dourdan exclusively tells E! News. "It has been rough, but [the public needs to get] all the right stuff. I did not do this."
Dourdan was arrested back in November 2011 for felony battery charges after his ex-girlfriend, Nicole Vail Cannizzaro, claims the actor punched her in the face and broke her nose during an altercation.
A pretrial conference was scheduled for May 21 with a jury trial date scheduled for June 1.
"We look forward to explaining what happened in front of a jury," Dourdan's attorney John Markham, a former federal prosecutor, tells E! News. "All the relevant evidence is there and the jury will see it for what it is, a false claim."
Dourdan tells E! News all of this has been "very difficult for my son," who was front and center for most of the incident.
Dourdan's story of the alleged November incident is that he noticed his son, who he has custody of on the weekends, was missing from his Venice home around 8 p.m. Dourdan claims that Cannizzaro, who the actor says he broke up with a month or so before, had brought his son from the house to a nearby Whole Foods. Dourdan claims he "panicked" and went out searching for him.
Once he found his son, Dourdan says he put his son into a cab and when Cannizzaro tried to get in as well, Dourdan pushed her away. Dourdan then claims that Cannizzaro went back to his house, uninvited, and broke in through his garage and was throwing power tools around.
After the incident, Markham says Cannizzaro went to a personal injury lawyer and "we think that says a lot."
Judge James Dabney told Markham in court today that he would like to know if settlement talks are in the works, but Markham says he isn't looking to settle.
"In most cases you would be stupid if you did not settle, but this one is different," says Markham, adding that Dourdan's reputation is at stake and showcasing his innocence to a jury is one way of proving that.
"The truth doesn't have a half-life," insists Markham.