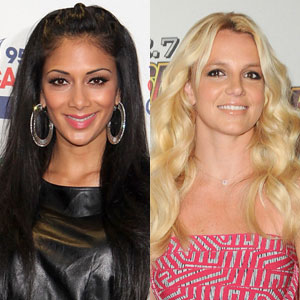 StarTraks, Getty
Nicole Scherzinger's gig on The X Factor may not have ended too well, but does that mean she's hating on Britney Spears for likely landing a seat at the judges' table for the second season for $15 million?
Read on to find out what the Pussycat Dolls singer told us just last night about the pop princess...
"Britney is so bubbly and warm and everyone loves her anyway, so she just has to be herself," Scherzinger told E! News at the Elle Women in Music party at the Avalon Hollywood.
"I think that it's something that we can't deny, but there's something about Britney that we...are always rooting for her and behind her no matter what," she told reporters while rocking a hot, short, dark blue Tony Ward dress.
British pop star Jessie J, who's currently a coach on The Voice UK, also gave us her thoughts on Spears' new job.
"I think it's really important to have people who have lived it," the "Domino" singer said. "They can understand what these artists who are auditioning go through and really know how it feels to have rejection and have success. And I think that she's someone who's shown how to have a career with longevity. I think it's definitely something that the show [needs]."
As E! first told you just yesterday, Spears is thisclose to joining Simon Cowell and L.A. Reid for the second season of The X Factor. Spears' fiancé, Jason Trawick, is apparently going to become a producer on the show, too.
Now we want to hear from you. Do you think Spears will make a good X Factor judge? Sound off below.