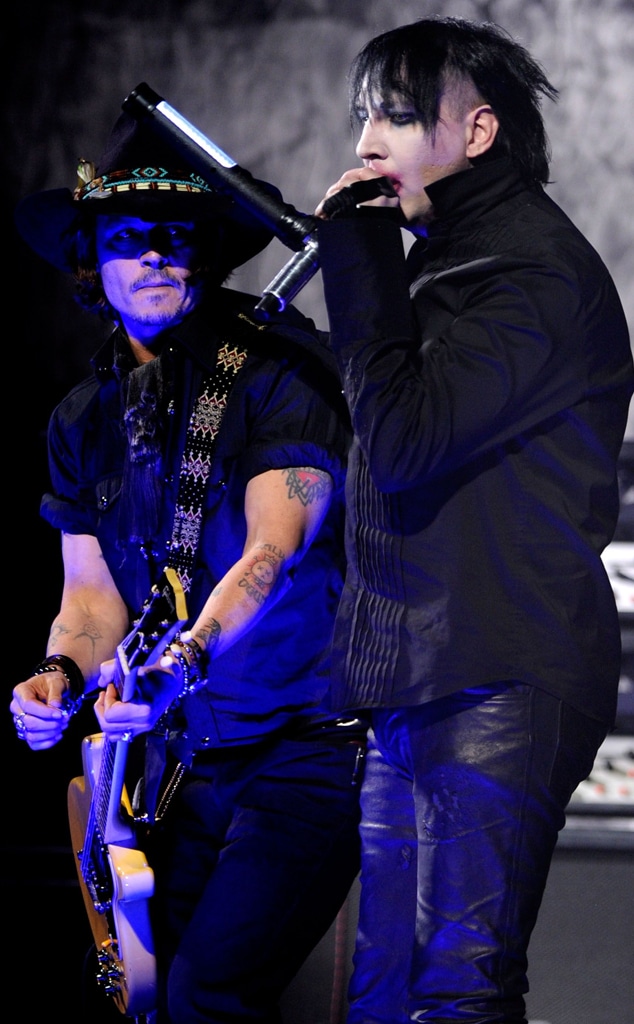 Frazer Harrison/Getty Images
Sweet dreams are made of Johnny Depp—and Marilyn Manson?
The Pirates of the Caribbean star joined Manson onstage during the 2012 Revolver Golden Gods Awards in L.A. Wednesday night. Depp, 48, played electric guitar while Manson, 43, sang "Sweet Dreams (Are Made of This)" and "The Beautiful People."
Despite being onstage, the actor kept a low profile, wearing all black except for a white feather tucked into his cowboy hat.
Manson, however, didn't want his pal to go unnoticed. After they performed the first song together, he announced the actor's presence to the crowd.
"If you don't recognize my personal friend… my personal savior, my personal guitar hero… Johnny Depp," he exclaimed.
Depp even collaborated with Manson on a cover of Carly Simon's "You're So Vain," a track on the rocker's upcoming album Born Villain, out May 1.
Of course, Manson isn't the only rock star to rub elbows with Depp. Sir Paul McCartney and Bruce Springsteen chatted up the actor at a Grammys party in February.