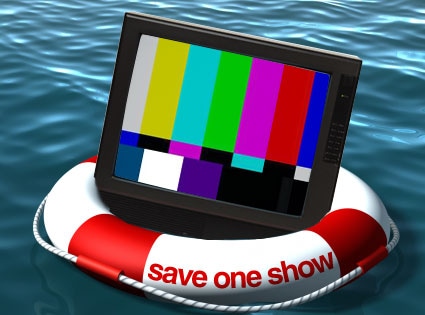 E! Networks/Comcast Entertainment Group
The time has come!
We asked for your nominations for our Save One Show competition, and wow...did you guys deliver. After thousands upon thousands of nominations, we've chosen the top 20 shows that you guys want saved from cancellation doom. And now comes the hard part...
We need to narrow this list down from 20 bubble shows to only 10. We'd love to save all of them, but alas, only one show can be saved by us in the end.
Choose which show you want saved and vote in the poll below, and the top 10 will move on to the next round. This is where you round up your fan bases to save the likes of Cougar Town, Nikita and Fringe. Spread the word on Twitter using the hashtag #SaveOneShow and bring your army of voters!
Tweet #SaveOneShow
This round closes on Sunday, April 15 at 5 p.m. PST. The top 10 will be revealed on Monday morning, and the voting starts all over again. Now scroll down and start saving your show!
Is there a show we missed that you think has to be included in Save One Show? Head to Twitter and tweet @KristinDSantos or write it in the comments, and if there's enough of an uproar, we might just include it in the next round! Just remember to use the #SaveOneShow hashtag. Good luck!
PHOTOS: Save One Show 2012