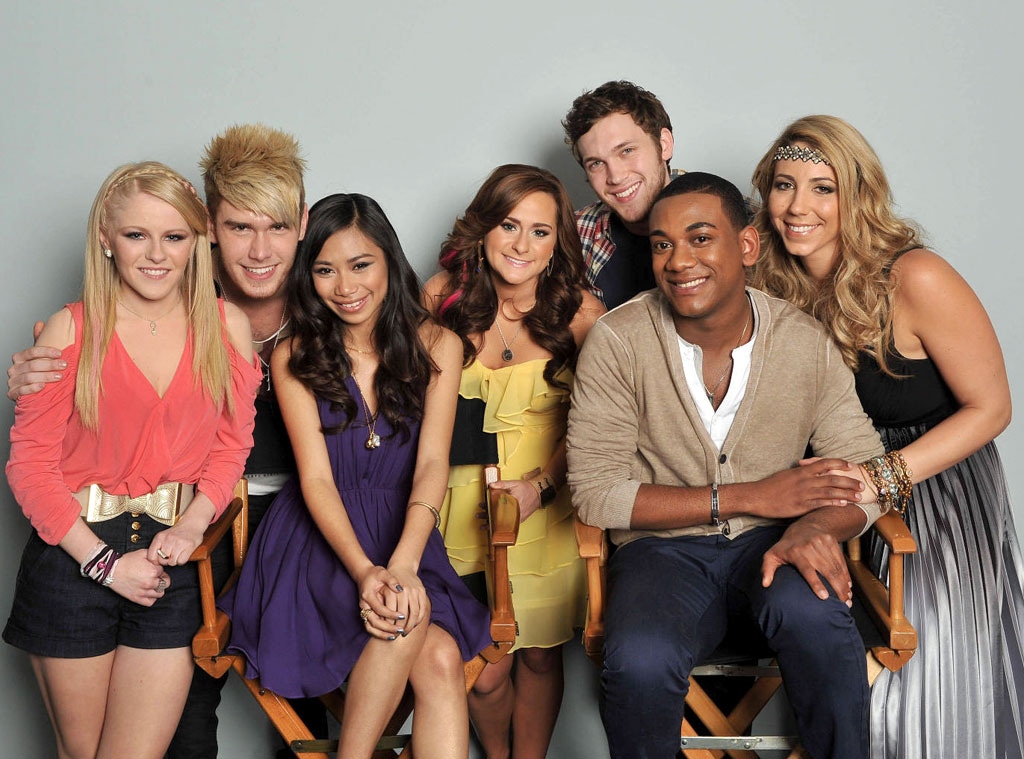 Michael Becker / FOX
American Idol went heavy on the same old romance rumors on Wednesday night's performance show, but was it all to take attention away from judge Jennifer Lopez? 
The A.I. contestants may be the closest people to Jennifer right now, so what did they have to say about the divorce news and their impression of Jen's new guy Casper Smart? Plus, what were Colton Dixon and Phillip Phillips' thoughts on Jimmy Iovine pitting them against each other in a so-called competition for female fans? We got the stars to dish after the show!
Tinseltown hadn't stopped talking about Marc Anthony officially filing for divorce from Jennifer after seven years of marriage, putting her under the magnifying glass. While she was all smiles, donning a sparkling cocktail ring where her wedding band once called home, she showed no sign of distress. 
When we caught up with the contestants after the show they gave us their take on how Jennifer is handling the news. 
"I'm sure Jennifer is handling things fine, Skylar Laine told us. "She's Jennifer Lopez, she can do what she wants!"
When we asked Colton how she was holding up, he was surprised to hear about the official divorce filing, but had nothing but positive things to say about her attitude on set. 
"I didn't know that," he said. "Yikes. Jennifer is a superstar. I never would have known from her attitude that news [on her divorce] was released today. She's such a class act. We all love Jennifer. She's so genuine, she's a very independent woman and she knows how to handle herself that way."
A probable cause for Jennifer's impeccable composure is the distraction of her hot new romance with dancer Casper Smart. While it isn't breaking news that the pair are one of Hollywood's hottest hookups of 2012, the contestants weren't shy to talk about his presence at Idol and their thoughts on the two as a couple. 
"They're cute together," Jessica Sanchez told us. 
"We've seen Casper," Skylar added. "I've never met him, but I've seen him. He wears sunglasses a lot. It's whatever she wants. I'm sure he's a nice guy. She looks taller than him which is kind of funny. Maybe it's her heels."
After last week's sneak peek of Jennifer's new video for "Dance Again," Elise Testone revealed it made her feel like she got a little too close to Jen and Casper's relationship, but admits anyone as hot as Jennifer has every right to flaunt it!
"I felt a little like I was invading their personal space," she told us. "But she's so beautiful, and I really do look up to her. I think she was rocking what she's got, and that's all you can do while you're here on Earth. If I looked like J.Lo, I would do that all the time!"
"The video was mmm-mmm-good! I wasn't complaining," Phillip laughed!
Jennifer's almost-too-hot-for-TV video may have been pleasing to Phillip, but Jimmy Iovine's attempt at pitting him and Colton against each other as rivals for female attention rubbed him in all the wrong ways.
"[Colton and I] talked about that after our mentoring session last week and we were really upset about it," he told us. "We are two completely different artists and really close friends, so there is nothing to compare. If you like Colton better, you like his style better. If you like me better, then you like my style better."
Colton couldn't agree more and got a little heated talking about it.
"I hate it," he said. "I know Phillip would say the same thing. We're two completely different people. The majority of people that vote are little girls, that's just the reality of it. But we're best friends too, you know we love hanging out with each other. I definitely bit my tongue when he said that in the session." 
Yikes! Looks like Jimmy better watch it! 
Who do you think is cuter? Colton or Phillip? Which Idol do you think is going home tomorrow? Sound off in the comments!