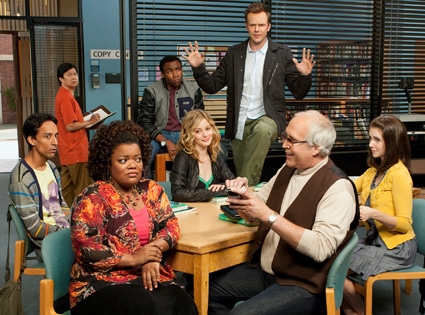 Mitchell Haaseth/NBC
Community fans, it might be time to break out a loud "Pop! Pop!"
NBC announced today that it has picked up the fan-favorite for a fourth season, but there is a slight catch...

As we speculated previously today, Community will have a shortened run in the fall, with 13 episodes ordered for the fourth season. However, that doesn't mean that it will be the final season for the Human Beings.
Despite the well-documented feud between creator Dan Harmon and star Chevy Chase, it seems as though the entire cast is in good spirts, taking to Twitter to celebrate.
@joelmchale: Dear #Community fans, You are the best people in the world. We're renewed for 13 eps. Couldn't have done it without you
@yvettenbrown: Best way to celebrate our season four pick-up? Why not WATCH an ALL NEW #Community right now (East Coast). @hodgman will be there! #ClipShow And one more thing guys, who cares how many eps we got. Just rejoice in the pick-up, PLEASE! It wasn't guaranteed. It's a blessing! Thanks.
@dannypudi: Thank you fans. Thank you NBC/Sony. Season 4. Holla!
Wanna celebrate, Community fans? Or did you hope for a full sesason order? Head to the comments!
(E! and NBC are part of the same NBCUniversal family)