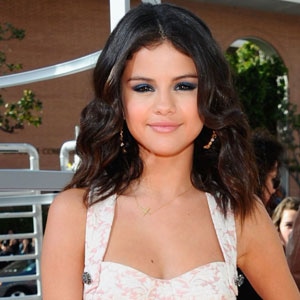 Alberto E. Rodriguez/Getty Images
Selena Gomez is going back to high school...sort of!
E! News has learned exclusively that Selena's hit song, "Love You Like a Love Song," will be featured on an upcoming episode of Glee. And it's a big episode at that.
So which milestone episode will it appear in?  
The ladies of New Directions, specifically Santana (Naya Rivera) and Rachel (Lea Michele) will be tackling "Love You Like a Love Song," and it all goes down in Glee's sure-to-be epic prom episode. Get excited, people!
A source on the set says that the episode, written by series creator Ryan Murphy, was shot last week and that Lea turned in "a really powerful performance" of the omnipresent radio hit. On April 4, Michele tweeted, "Longest. Prom. Ever."
This is the first time one of Gomez's song will be featured on the show.  Compared to her BF Justin Bieber, however, Gomez is slacking. Glee has featured Bieber's hits "Somebody to Love" and "Baby."
Another teen dream that could be getting the Glee treatment? One Direction! Star Chris Colfer recently told us, "Maybe we'll do a One Direction tribute episode."

—with reporting by Kelsey Osborne
Are you excited to hear Glee take on Gomez's hit song?