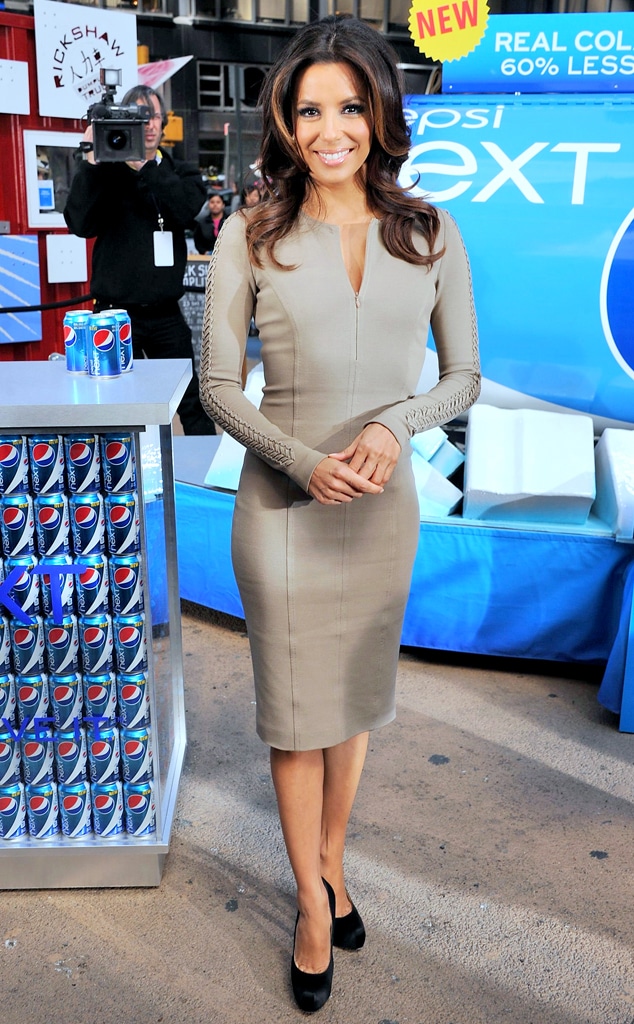 Dimitrios Kambouris/WireImage
Eva Longoria may be saying goodbye to Wisteria Lane, but don't think she's leaving the world of primetime soaps.
Turning up in New York City this Good Friday to hype Pepsi's new reduced sugar cola, Pepsi Next, the Desperate Housewives star talked to E! News exclusively about her future plans once the hit ABC drama draws to an end on May 13, including her new matchmaking show and a little something called Devious Maids.
If it's as devious as Desperate's final hurrah, viewers are in for a treat!
Per Longoria, Devious Maids is a new spicy serial drama she's executive producing with Desperate mastermind Marc Cherry and ABC Studios that—like Housewives—follows four female leads. Only in the setup, which takes its cues from a Mexican telenovela format, the hot Latinas played by Ana Ortiz, Roselyn Sanchez, Dania Ramirez and Judy Reyes are the help.
"It's probably going to fill [the Desperate Housewives] void really nicely," Eva tells E!. "It's about four women, four maids and their employers and their lives and it is so funny and dramatic and mysterious. It's got all the great elements that Desperate Housewives has but with different content, a different point of view—the help's point of view."
Muy caliente! The show reportedly starts shooting next month.
But that's not all Longoria's got cooking. Following her 2010 divorce from NBA star Tony Parker and her recent breakup with Salma Hayek's little brother, Eduardo Cruz, after a nearly year-long relationship, the newly single actress is also playing cupid.
She's developing All About Love, a new dating series in which professional matchmakers Steve Ward and Amber Kelleher pair up singles looking for love in all the wrong places.
As for last month's mistrial in Nicollette Sheridan's wrongful termination suit against Cherry, Longoria told E! that she and her fellow castmates were largely unaffected by the legal battle which she told Good Morning America yesterday was an unfortunate "stain on our legacy as a hit show."
"It was like a sideshow," said the 37-year-old thesp. "We'd get an update once in a while then it was over.  We were never really called to testify or get in the middle of it and then it just kind of happened on its own.  It had absolutely zero effect on set."
As a Mexican-American, Longoria also has been held up as the poster child for network diversity, a role she's continued to embrace wholeheartedly in helping minorities gain a larger presence in the entertainment business.
"I think there's definitely been an increase in minority groups on television whether it's women or African-Americans or Hispanics or Asian-Americans," she notes. " It's still not accurately reflective of the American demographic. I think [Hispanics] are maybe 10 percent of TV but 16 percent of the population.  And I think there's a lot of room for improvement for females in television which is the other minority group. But I think slowly but surely it'll get up there."
Longoria adds that is the reason she loves producing.
"As women you're not gonna be able to sit back and wait for that role to come along. You're gonna have to go write it, produce it, direct it and get it on the air," she says.
And when she's not hawking Pepsi Next, the soda giant's latest stab at the diet market with 60 percent less sugar, Longoria also serves as a campaign co-chair for President Obama's 2012 re-election effort.