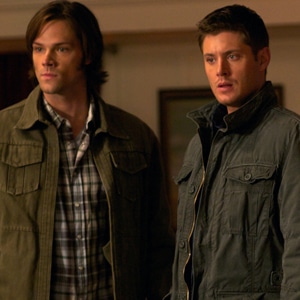 Jack Rowand/The CW
The Winchester boys are coming back, y'all!
OK, so the CW hasn't officially renewed Supernatural for an eighth season—yet—but we have good reason to believe Sam (Jared Padalecki) and Dean (Jensen Ackles) will be back next season to hunt monsters, save the world and scarf pie in seedy motels.
Co-showrunner Sera Gamble is stepping down, the network confirms, but they've already hired a familiar and beloved face to fill her spot: Jeremy Carver.
Why aren't we exactly mourning Gamble's exit?
The switchup actually marks Carver's return to Supernatural, after serving as writer, story editor and co-producer during his three-season tenure on the cult favorite. His rehire also means he is exiting Being Human, which he and his wife, Everwood's Anna Fricke, adapted from the original British series. Syfy confirms that Fricke will be running the show—which was recently renewed for a third season—solo.
Carver penned such epic SPN episodes as season four's zombie-themed "Dead Men Don't Wear Plaid" (RIP again, Mrs. Bobby Singer), so fans can count on the series retaining its signature dark comedy when it returns next season.
Because it is returning, right?
Welcome back, Jeremy!
What do you think of this Supernatural staffing change? Has the apocalypse been averted once again? Sound off in the comments!