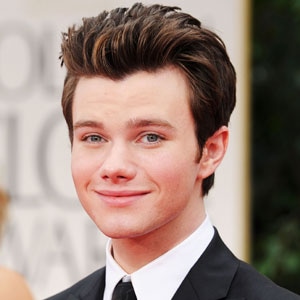 Frazer Harrison/Getty Images
Chris Colfer's movie debut, Struck By Lightning, doesn't premiere until later this month at the Tribeca Film Festival, but the Glee star is already well on his way to making his second flick.
I was the first to tell you about Colfer's follow-up script and now I have even more details about the project for you…
"I had to do loads and loads of research because it's a period piece," Colfer told me at the Kids' Choice Awards. "It's very, well, let's just say I couldn't write it at night because it gave me nightmares."
But, he said, "I wouldn't call it horror. But it's also not cupcakes and unicorns."
What definitely didn't give him nightmares was working with White Collar hunk Matt Bomer on Glee. "That guy's perfect," Colfer said, adding with a laugh, "It's just obnoxious how perfect he is."
He also praised Bomer for coming out of the closet as a gay man in February when he thanked his longtime partner, publicist Simon Halls, during an awards acceptance speech. "I'm very proud of him," Colfer said. "I think that's going to be very much the norm very soon."
Fingers crossed!