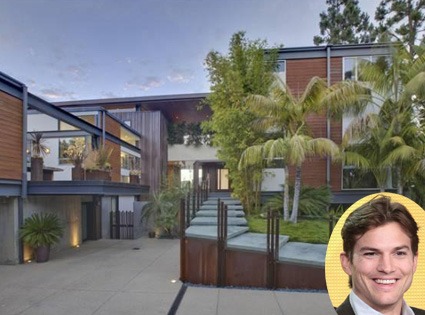 Realtor.com
Ashton Kutcher is using some of that Two and a Half Men money to make his house a home.
The single-and-ready-to-mingle actor has purchased the Hollywood Hills mansion he had been renting since splitting up with wife Demi Moore.
There's no record yet of how much he paid, but the five-bedroom, eight-bathroom abode had been on the market for a little more than $3.6 million until the Ashton Kutcher Living Trust secured the property on March 29, according to public documents.
The three-story home now belonging to Kutcher sits on 9,385 square feet on Arrowhead Drive, according to Realtor.com.
And while, per realtors' terms, the "architectural masterpiece overlooking Lake Hollywood" doesn't appear to need the renovation skills Kutcher and his dad put to use on the never-lived-in bachelor pad the actor bought before tying the knot, it doesn't seem as if he'll be getting bored anytime soon.
Fully retractable glass walls provide extensive views of the city. There's a gleaming state-of-the-art gourmet kitchen, a master suite with spa tub, a screening room, a bar area for entertaining, a floating outside dining area, an infinity pool and spa, and a gym with a massage room.
Rihanna may not be up for being romanced by the new homeowner, but it's hard to imagine Kutcher having trouble finding willing houseguests.