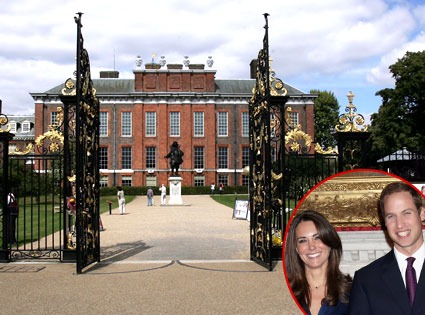 Getty Images
It's Hollywood royalty meets British royalty!
Prince Harry just moved next door to Prince William and Kate Middleton at Kensington Palace, but now comes word that the royal couple has another new and high-profile neighbor—or rather, neighbors.
E! News can confirm that an A-list Hollywood couple has moved into a luxury apartment building right next to Kensington Palace.
And if that news didn't already jack up the area's massive star power, how about this: Both actors are Oscar winners whose combined hottie quotient threatens to knock Will and Kate off their pretty little thrones!
So who's causing a commotion in the royal court?
Pablo Blazquez Dominguez/Getty Images
It's Penélope Cruz and Javier Bardem!
According to a source, Bardem is in town to shoot the new James Bond movie Skyfall, hence the temporary digs. While hubby's out to work, Cruz has been staying at their snazzy new London home to look after their 14-month-old tot, Leo.
We're told that the couple's flat is just a stone's throw away from Will and Kate's Kensington manse, and that both properties share an adjoining parkland. Which means it's very likely the two couples have almost bumped into each other a few times.
Middleton, after all, often walks her dog, Lupo, in the park, while Cruz has been making the most of the mild London weather by taking Leo out to the park in his buggy.
Maybe Will and Kate should send their new neighbors a welcome-to-the-nabe pie! (Or should it be pudding?)