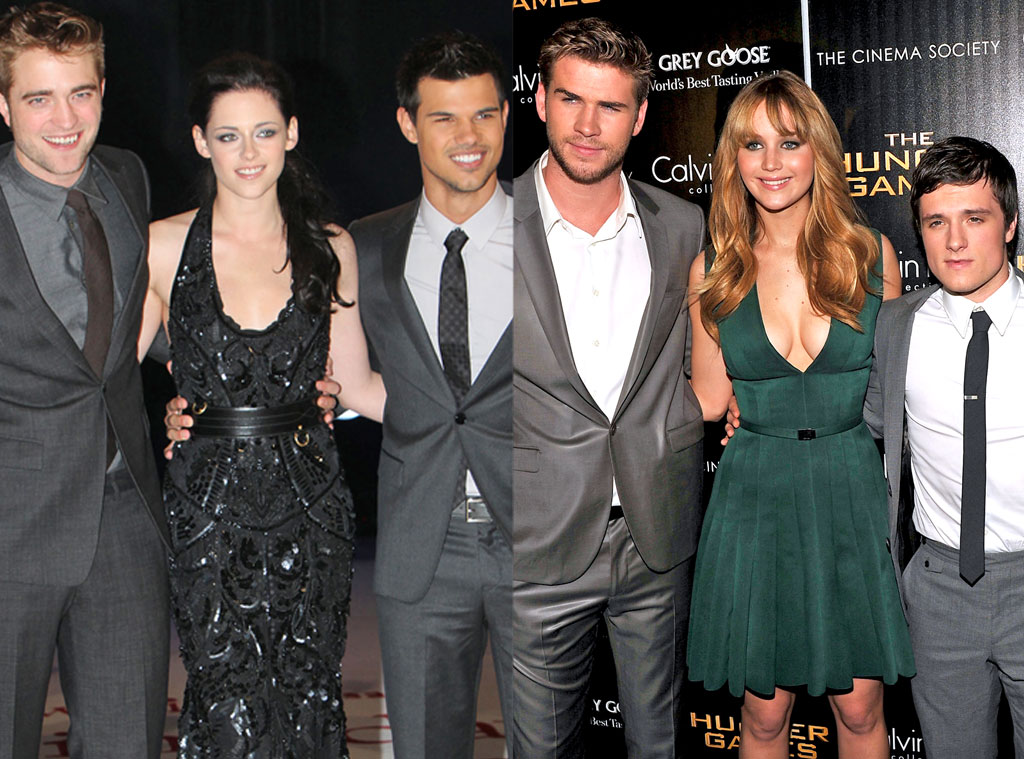 Getty Images
Twilight and Hunger Games fans, unite!
Stars from both of the blockbuster franchises are gearing up for this Saturday's celeb-studded 2012 Nickelodeon Kids' Choice Awards in L.A.
So who will be in the house for the annual slime-fest? Read on to find out...
Both Taylor Lautner and Josh Hutcherson will be at this year's show! However, fellow hunk Liam Hemsworth will be in Las Vegas this weekend for Sunday's Academy of Country Music Awards. Still no word yet on the other big names like Robert Pattinson, Kristen Stewart and Jennifer Lawrence, but we promise to update you when we hear anything.
In the meantime, we got a sneak peek today at the seating plans for the big show.
Emma Stone and boyfriend Andrew Garfield are sitting together on one side of the stage with a strategically placed aisle in between them. Seated by The Amazing Spider-Man lovebirds will be Heidi Klum, Nicki Minaj and Victoria Beckham with her three sons.
Triple nominee Selena Gomez will be keeping Katy Perry company in prime center front-row seats sans her beau Justin Bieber, who's nominated for Favorite Male Singer.
Meanwhile, Taylor Swift will be watching the show from the other side of the stage alongside Zac Efron and Cee Lo Green. Jada Pinkett Smith and kids Willow and Jaden also have front row seats so they can cheer on Will Smith as he hosts.
Rounding out the audience will be Victoria Justice and her Victorious costars, Modern Family's Ariel Winter and Nolan Gould, break-out band One Direction and Miranda Cosgrove, among many others.
UPDATE: Happy news! We just got word Kristen Stewart will be at the Kids' Choice Awards.
Be sure to tune into E! this Saturday at 7:00 PM ET/PT to catch Ross Matthews and Kelly Osbourne chat up the stars as they arrive at the Kids' Choice Awards!