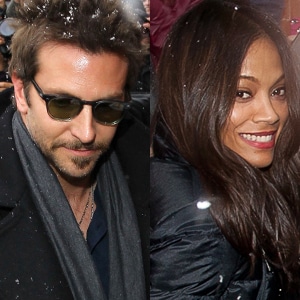 FameFlynet, Inc; BAUER-GRIFFIN.COM
Well we weren't expecting this quite yet.
Sure, we were kind of "eh" on Bradley Cooper and Zoe Saldana's romance, but after only three months the duo have reportedly called it quits—and just a month after Zoe was spotted on the town with Brad's mom.
So what went wrong? And who did the breaking up?
Brad, apparently.
"They broke up last week," a source close to the former couple confirms to E! News. "He dumped her, he just doesn't want to be in a relationship at the moment."
Interesting! We always thought Zoe would be the one who would want to play the dating pool a little bit more—she did jump into this high-profile relationship after just getting out of a decade-plus romance, after all.
So what went wrong between the Words costars?
Apparently nothing…they were just better suited to be pals. We've all been there, right?
"They have a great friendship, a natural chemistry and it was for that reason their relationship was able to grow into something more," our insider continues. "But the timing was wrong, they are in different places in their lives."
Too bad…for us! We didn't even get any PDA pics of the hottie duo before the broke it off. Heck, the only time they even really came close to hitting the town together was when they attended Sundance for their debut—and even then it was as chilly as snowy Park City.
Oh well, the relationship is ending the same way it began: "as friends."
"They are hoping to remain friends," our source explains.
We have a feeling these two won't have any trouble rebounding—Bradley is People's reigning Sexiest Man Alive after all…and Zoe ain't so bad herself.
—Reporting by Melanie Bromley