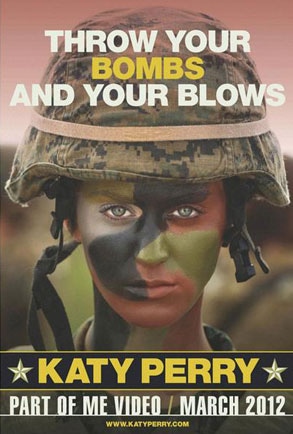 Katy Perry's "Part of Me" music video seemed pretty pro-woman to us, but feminist writer Naomi Wolf sure doesn't think so.
"Have you all seen the Katy Perry Marines video?" the author posted on her Facebook page Sunday. "It is a total piece of propaganda for the Marines…. I really want to find out if she was paid by them for making it…It is truly shameful."
Wolf even asks fans of the singer to do something drastic…
Quit buying her music!
"I would suggest a boycott of this singer who I really like—if you are as offended at this glorification of violence as I am," she wrote.
Funny. Somehow we see K.P.'s video as a metaphor for being tough and moving on from a breakup, but to each her own!
Weigh in below: do you agree with Wolf that Katy Perry's "Part of Me" music video is military "propaganda"?