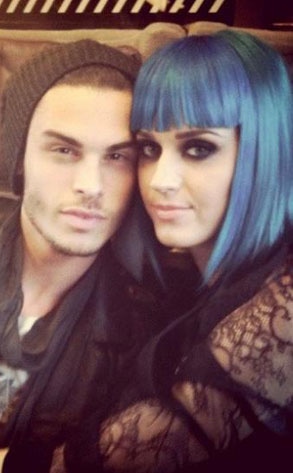 Are they or aren't they? Oh, they so are...twitpic buddies, of course! What?
But while Katy Perry and her frantically rumored rebound beau Baptiste Giabiconi keep the public guessing as to their relationship status, they're more than happy to get up close and personal on Twitter, with the handsome hunk tweeting out a picture of the duo cuddling up together over the weekend.
"@katyperry hey my #littlekats u look So amazing in this pics!:)" he wrote alongside the photo.
The pair has been seemingly inseparable as Katy makes her way around Europe this week, and while he's been fielding equal measures of abuse and encouragement over his rumored dalliance with Russell Brand's ex, he's so far remaining coy about their relationship status.
Well, to a point. He certainly didn't mind clarifying one matter that's been making the online rounds.
"Sorry i m not gay!" he wrote in response to a follower bizarrely asking him to stay away from Katy if he was.
Which is the closest thing to a response we can expect from these two.