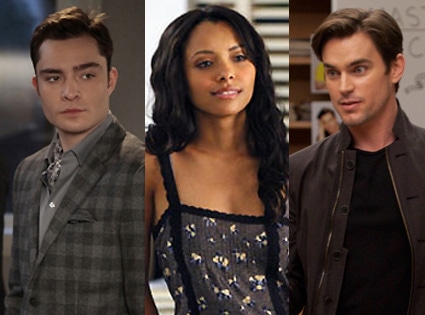 CW
Attention Gossip Girl fans: You best start preparing for a blast from the past at the end of the season!
We've learned that the CW soap is raising a character from the dead, and the resurrection should make fans clamoring for more solo storylines for Chuck Bass pretty happy! So who's coming back to the Upper East Side come May sweeps?
Plus, what's Matt Bomer up to as Blaine's (ridiculously handsome) big bro on Glee? And will Vampire Diaries viewers see a fan favorite couple reunite by season's end? We've got answers to all those questions, plus scoop on Mad Men, NCIS: LA, the One Tree Hill series finale and more in today's installment of Spoiler Chat.
So what are you waiting for? Dig in...
wrightst3: Bart Bass was spotted on the set of Gossip Girl. Any scoop about him returning from the grave?
Yes, the father of our favorite motherChucker is in fact returning to the CW drama and viewers can expect to see the not-so-dearly departed Bart Bass at the end of the season. John Robert Burke appeared as Bart ghost-style in season two, but if we had to guess, we'd say he'll be returning in a flashback capacity this time around.
Rebecca: Please tell me there is hope for Bonnie and Jeremy on The Vampire Diaries! Is Steven R. McQueen coming back?
You will see him again, but sadly, we're not too hopeful about a Bonnie and Jeremy rekindling. Kat Graham herself tells us this when asked if she's rooting for Bonnie and Jeremy: "I'm all about the character constantly evolving. [Executive producer] Julie Plec talks about the character having layers and anything that progresses [Bonnie] forward and you're able to see more dimensions, I think that's good. If it brings out a different side of Bonnie, then yes. If not, then let's just move on."
Jane in Peoria, Ill.: One Tree Hill finale scoop? But only if it's good.
How about vague? Mark Schwahn definitely has some OMG moments up his sleeve for the final episode of One Tree Hill. And since he managed to keep Keith's return from leaking, we bet there might be some other secret surprises that'll knock us off our feet. And speaking of surprises, check back here later today for a special treat for One Tree Hill fans. You won't want to miss it!
Lydia: Any scoop about Blaine and his big brother, Cooper, on Glee?  I'm so excited to meet him!
Ditto. When it comes to Matt Bomer, we're never not excited about him! You know who's less excited about Cooper? Blaine. His big bro's return is going to irk him just a bit, and based on how cocky Cooper is in this brand-new Glee promo, we don't blame him. Oh, and by the way…Finchel headed to California?!
Hare2Hartman: Does ANYONE know if Revenge is back April 11 or 18?
We do, we do! Revenge finally returns on (drumroll, please!) April 18, with a recap-style special airing April 11. So far away, we know. Here's some scoop to numb the pain: Charlotte's teeny tiny pill-popping problem is still alive and kickin' leading up to the finale. Speaking of Charlotte, is she ever going to learn her sister's true identity and revenge scheme? "We've talked about going both directions," Christa B. Allen teases. "It could either be this amazing collaboration that happens where Charlotte starts to learn some of her ways and almost become an accomplice or an ally or Charlotte could be the next ice queen." So she's going to become the next Emily or Victoria? We love it!
Terry: Is Sid going to leave his job now that he's a multimillionaire on CSI: New York?
Don't count on Sid running off to sit on some tropical beach to count his millions. However, he might be sitting in the M.E.'s office counting his millions. Or perhaps getting more patent inspiration from the dead. CSI: NY showrunner Pam Veasey reveals Sid's presence will be addressed: "We actually explain that. I won't tell you what he says, but it explains why he isn't leaving."
Lindsay in Chicago: Any scoop on the storyline for Sally Draper this season on Mad Men? She really should have her own show, right?
"That would be awesome," her TV mom January Jones told us when we pitched a star vehicle for Betty Draper's wonderful, and wonderfully peculiar, young daughter and fan favorite, Sally. "You'll have to give her a few years—unless she gets emancipated," Jones joked. In the meantime, creator Matthew Weiner told us, "I cannot tell you about her story but Kiernan [Shipka] is a big part of the show—as always…I had a meeting with her mother at the beginning of the season and said, 'Well this year she's going to do blank [!], blank [!] and blank [!],' and she told me Kiernan said to her, 'Mommy, don't say no to anything—he gives me great stuff'." Like that controversial masturbation scene? "I don't personally find masturbation shocking except on TV," Weiner said. "I think it's a very big part of the human experience. [This season], you will [continue to] see the reality of a little girl's life at that period. For me it's super important to keep Sally's story alive because she's an entry point for a lot of the audience…There is an honesty about childhood, and Kiernan is very aware of that. She is a very old soul—it's not a cliché."
Brent: NCIS: L.A. is never in Spoiler Chat! Please give me something.
Our hearts hurt at the thought of us disappointing you. Please accept our most humbled apology, which we present in the form of this piece of scoop: NCIS: L.A.'s penultimate episode is titled "Payback, Part 1." Any idea what that means? And how much you want to bet that the finale has a "Part 2" in it?
Spoiler Chat coming your way every single day! Send questions to tvdiva@eonline.com or tweet them to @KristinDSantos!
—Additional reporting by Jenna Mullins, Tierney Bricker, Drusilla Moorhouse & Christina Dowling