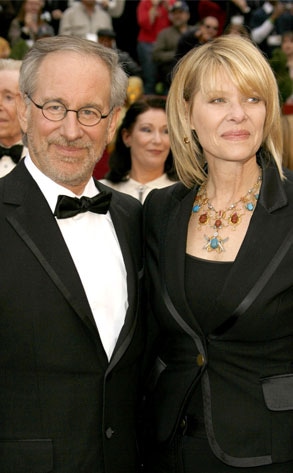 Jeff Vespa/WireImage.com
As goes Brangelina, so goes Hollywood.
Less than a week after Brad Pitt donated $100,000 to fight a California initiative to ban gay marriage in the state, Steven Spielberg and wife Kate Capshaw have followed equal rights suit, announcing they will match the six-figure donation to the "No on 8" campaign.
Proposition 8 is due to hit the California ballot this November and, if approved, would render unconstitutional the swapping of same-sex vows.
"By writing discrimination into our state constitution, Proposition 8 seeks to eliminate the right of each and every citizen in our state to marry regardless of sexual orientation," Spielberg and Capshaw said in a statement.
"Such discrimination has NO place in California's constitution, or any other."
Opponents of the ban are cheering the Spielbergs' largesse.
"It's phenomenal that Kate and Steven are affirming their unwavering commitment to equality in such a significant way," producer and "No on 8" campaigner Bruce Cohen told Variety.
So far, supporters of the ban have outraised the "No on 8" group, $16.2 million to $10.8 million, but polls show Californians are leaning against the amendment prohibiting same-sex marriages.
In a statement last week, Pitt said his support was a matter of equal rights for everyone.
"Because no one has the right to deny another their life, even though they disagree with it, because everyone has the right to live the life they so desire if it doesn't harm another and because discrimination has no place in America, my vote will be for equality and against Proposition 8," the actor said in a statement.
Back in May, the California Supreme Court made the landmark ruling deeming it unconstitutional to prevent gay couples from walking down the aisle, thus clearing the way for the recent high-profile marriages of Ellen DeGeneres and Portia de Rossi and George Takei and longtime partner Brad Altman.