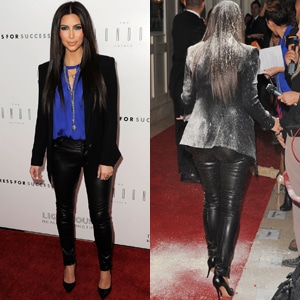 Splash News; Frazer Harrison/Getty Images
After reminiscing on Khloé Kardashian Odom's meeting with PETA's Michelle Cho (the sister of Kim Kardashian's alleged flour-bomber), which occurred long before anyone could have guessed that such a powdery mess would take place, we got a reaction from the other side.
The animal-rights organization (who respects Khloé's decision to cut ties) along with Michelle released statements to E! News discussing Christina Cho's involvement.
"I am not my sister's keeper," Michelle tells us, "but I love her and have seen her sacrifice a lot of herself as a terrific activist. We work in different ways to help stop animal suffering. It is Christina who got me into the movement to protect animals, and I'll always be grateful to her for opening my eyes."
PETA adds, "If Christina Cho is the person who sprinkled flour on Kim Kardashian, we know Christina as a very kind, wonderful long time volunteer. At a reception at our LA office last month she was with a group who watched this video and was visibly shaken. We will support her totally."
The organization has openly stated that they will "defend the activist" should any legal action take place against Kardashian.