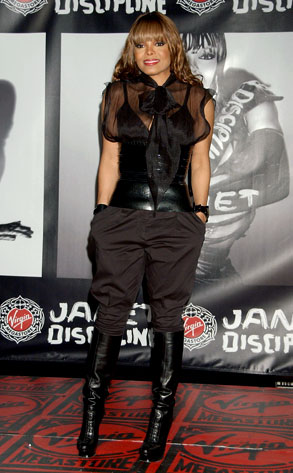 Gregg DeGuire/WireImage.com
Janet Jackson doesn't adhere to labels. Not right now, anyway.
A few months after publicly complaining about a failure to properly promote her new album, Discipline, and 14 months after getting onboard, the veteran pop diva has left Island Def Jam, according to her publicist.
"At her request, the record label has agreed to dissolve their working relationship with the popular artist," Jackson's rep said in a statement. "Now, more than 20 years after the release of her iconic album, Control, Janet will have autonomy over her career, without the restrictions of a label system.
"Always known to break new ground and set trends, Janet's departure from Island makes her one of the first superstar artists to have the individual freedom to promote their work through a variety of avenues such as iTunes, mobile carriers and other diverse and innovative channels."
There was no mention of any looming deal with one of those innovative modes of distribution, but it's something to be on the watch for this year.
Jackson signed with Island in July 2007. Discipline, which was executive-produced by Jackson and her beau—and Urban Island president—Jermaine Dupri, debuted at No. 1 in February but has since gone on to move only 415,000 copies in the U.S.
The disappointing numbers prompted Jackson to tell SOHH.com in July that her Universal Music Group-owned label dropped the ball when it came to promoting Discipline, saying the label ceased all effort after the release of the album's first single, "Feedback."
"I can't say if we'll be working with them in the future," she told Billboard earlier this month. "I don't know what the future holds between the two of us."
But before she has time to pursue more innovative channels of distribution, Miss Jackson's got a continent to crisscross.
The 42-year-old song-and-dance queen kicked off the 23-date Rock Witchu tour—her first tour in nearly seven years—Sept. 10 in Vancouver and will be on the road until Oct. 26, when she wraps things up in Tulsa, Okla.