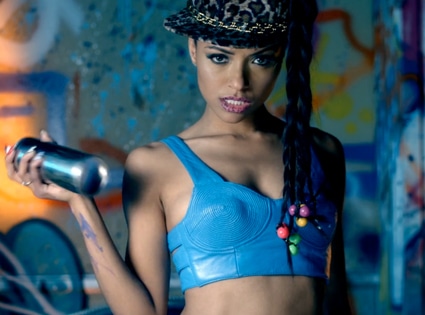 Vampire Diaries fans: Your perception of Kat Graham (you know, loveable witch next door Bonnie) is about to be blown wide open!
E! News is exclusively premiering Kat's brand-new—and very first!—music video, "Put Your Graffiti on Me" from A&M/Octone Records, and we recommend you put the kiddies to bed before watching. It's all kinds of hot. And sexy. And scantily clad!
I sat down exclusively with Kat to get the goods on what the title means (a euphemism for something?), why Ian Somerhalder is making a fool of himself in airports, and what's ahead for the TVD season finale.
So check it out now...
Graham, who tells me she's been singing since she was 14 and "making beats and engineering before I was a singer," tells me she's "spellbound" that her first music video is finally coming out. But what exactly does "Put Your Graffiti on Me" mean?
When asked if it's some kind of sexual euphemism, Kat laughs and plays coy: "I don't know what you're talking about!" She explains: "The song is basically about owning yourself sexually and allowing yourself to be owned too. And having empowerment in that…I'm all about female empowerment and having a song that has this kind of reference."
And the video already has one fan, per Kat: "[Vampire Diaries star] Ian [Somerhalder] saw the video and he's like, he'll be in the airport doing the whole dance and everything and I'm like, 'Stop!' But no one else has seen it."
As for what's ahead for her character in the Vampire Diaries season finale, Graham reveals: "Bonnie's love life is taking a turn for the better, which is great. Her family situation still has a few kinks to work out. She's still going to have to be a part in a lot of the issues which are going on with the Original vampires. And there are crazy, amazing twists!"
When asked if she can say whether her upcoming romantic entanglement is with someone we already know, she counters, "No! I'm such a tease."
Regardless, "Put Your Graffiti on Me" is sure to bring Kat some new fans, who'll now see sweet little Bonnie in a whole new light. Tag her and check it out!