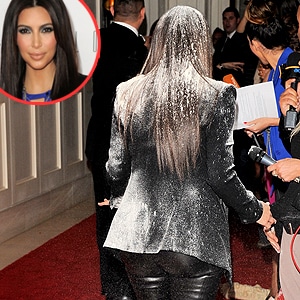 Splash News; Frazer Harrison/Getty Images
Talk about Kim Kardashian dusting herself off!
Though she played it cool on the red carpet last night after a young woman tossed a bag of flour on her, the Keeping Up With the Kardashians star is considering pressing charges, she exclusively tells E! News' Giuliana Rancic and Ken Baker.
"I said earlier no I wasn't [going to file a complaint]," Kim said. "I am just going to think about it, because I don't want someone to think they can really get away with that. So we are going to handle that."
She said that she really wanted to reach out, however, to point out that she felt worse for the people running the event last night than she did for herself. Not to mention, it was kinda terrifying...
Kim was posing for pics at the launch of her new fragrance, True Reflection (also benefiting Dress for Success) at the London West Hollywood hotel, when the not-yet-identified woman seemingly came out of nowhere, catching even the cameras by surprise. Kim was escorted off the carpet to clean up, ASAP, with concerned mom Kris Jenner following closely behind.
Security led the rogue flour girl away, but authorities did not release her name because she was not taken into custody at the scene.
"I was laughing it off earlier and, you know, I think that is the only thing I knew how to do at the time," Kim admitted. "But I just think it is such a shame that someone like that...would ruin an event, or attempt to ruin an event, that was based around, not only my fragrance, but this organization, Dress For Success. I mean that's what the event was about. These women flew in from all over the country to be a part of this event, that are underprivileged women, that really got the shine taken away from them a little bit. That's why I am calling in now. I feel bad that it was kind of derailed from that."
"Now that I think about it and had some time to digest it," she added, "I think, 'What if that was some other substance? What if that person had a dangerous weapon?' It's scary. And what's even scarier is this woman acted as if she was a part of the press. She just came out of nowhere! And so we are definitely changing things up a little bit, amping up security, taking some measures, and...I'm gonna definitely deal with it because it is not acceptable."
Meanwhile, scariness aside, how did Kim tidy herself up so quickly and return to the red carpet within minutes after such a shock?
"I have no idea," she replied. "I didn't think it was that bad until I saw the pictures today and was like, 'Wow, there was so much powder on me,' or flour, or whatever it was!"
"But," Kim concluded, "as soon as I got in the elevator, 'I said, 'Guys there are a ton of people that are paying money to be at this event." If she didn't go back, she would feel as if she were "letting them down...disrespecting them.
So, "my mom was using a blow dryer trying to get it out of my hair. My whole jacket was wet, because you know we were making sure it didn't look like it was white. She was wetting it down and I said, 'I don't care. Wet or not I'm just gonna put this back on, get all this powder off and go back down there and finish the event. We're not going to let this ruin it.'"
And they most certainly did not.