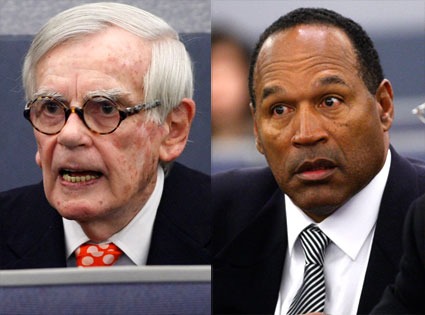 Ethan Miller-Pool/Getty Images, Isaac Brekken-Pool/Getty Images
Entrée to O.J. Simpson's new trial should come with a warning: May be hazardous to your health.
A week after one of the Juice's alleged armed robbery victims fell ill on the stand, Vanity Fair columnist and celebrity-crime expert Dominick Dunne—a fixture on the sidelines of Simpson's 1995 murder trial—was briefly hospitalized Monday after experiencing pain while listening to testimony this morning.
Him and everybody else…
Seriously, though, Dunne, who is fighting bladder cancer and has plans to return to his home base of New York this weekend for further treatment, told reporters that he had been examined and expected to be out of the hospital later today.
The 82-year-old author told the New York Times last weekend that he figured the Simpson trial would be his last major case—a fitting career capper considering it was the notorious football star's murder case that brought Dunne, who also copiously followed Phil Spector's murder trial last year, to the forefront of the Court TV scene.
While Dunne saw to his health, Thomas Riccio, the sports memorabilia collector who arranged Simpson's Sept. 13, 2007, meeting with memorabilia dealers Bruce Fromong and Alfred Beardsley, testified that he banked $210,000 from media outlets interested in a piece of the recording he made of what prosecutors say was an armed heist from which Simpson made off with more than $100,000 worth of items.
Riccio, taking the stand for a third day, said that TMZ.com, which first posted a clip, gave him $150,000; Entertainment Tonight paid $25,000; a Howard Stern Show sponsor ponied up $20,000 and ABC News paid $15,000—although the network originally balked at the idea.
"We have ways around it," is what Riccio says an ABC rep told him when he said that he wouldn't speak to them for nothing. (ABC News spokesman Jeffrey Schneider told the Los Angeles Times that money exchanged hands for broadcast rights to the tape—not for face time with Riccio.)
Simpson's attorneys have been attempting to paint this picture for the jury: Fromong and Beardsley wanted to bilk Simpson for all they could and then milk their confrontation for all it was worth, as did Riccio.
Simpson wasn't interested in profiting; he merely wanted to retain items that had been stolen from him by a former agent, the defense says. The Naked Gun player also had no idea that guns were going to be—or had been—involved, according to his side.
Riccio also testified Monday as to multiple phone conversations he and Simpson had after the confrontation, in which Simpson told him "over and over again" that he hadn't seen a gun.
"I didn't want to offend him, but I know I saw [a gun] right next to my head," Riccio said, adding that he thought it was a possibility that Simpson could have been implying that he wanted Riccio to change his version of events.
"Has O.J. Simpson ever asked you to lie about the events that occurred at the Palace Station Hotel?" defense attorney Yale Galanter pointedly asked on cross-examination, to which Riccio replied, "No."
"There is a chance he didn't" see a gun, Riccio said. "I wouldn't bet my life either way."
And it looked as if Simpson was going to get his stuff back without incident until Mike McClintock, who has turned state's witness in exchange for a lesser sentence, pulled a gun, Riccio said.
"Up until the point where Mr. McClinton displays a firearm, everything was going the way you wanted it to go?" Galanter asked.
Yes, Riccio said.
He also testified that he tried to get authorities involved in the situation before the meeting occurred, saying that Fromong and Beardsley were in possession of Simpson's stolen mementos, but no one seemed interested.
"This guy [Simpson's ex-agent] admitted he had stolen property and no one cares," Riccio said.