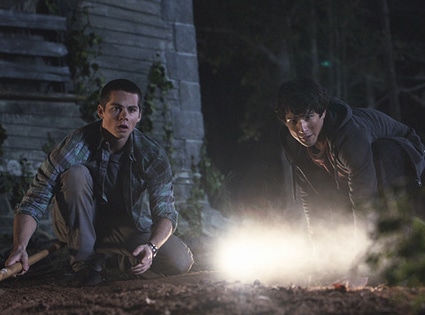 MTV
Man, we've missed these two!
No, we're not talking about Scott (Tyler Posey) and Allison (Crystal Reed), the star-crossed lovers of MTV's breakout hit Teen Wolf: We're talking about BFFs Scott and Stiles (Dylan O'Brien), duh-doy!
While the supernatural series doesn't return for its second season until June (curses!), we've got our hands on an exclusive deleted scenes from Teen Wolf's season one DVD set that will make the wait a little more bearable. Of course, it's all about Scott and Stiles' bromance!
In this outtake from episode three, Scott and Stiles have a heart-to-heart. Well, as much of a heart-to-heart as two teenage guys can possibly have. The convo takes place in Stiles' trusted jeep.
Scott has just visited fellow werewolf Derek (Tyler Hoechlin) to see if he could teach him to remember his time as a werewolf ('cause he thinks he might have killed someone, yikes!), and when Scott gets in the car, Stiles dishes out one of his awesome one-liners: "Hey, so what did he teach you? How to roll over? Beg? Did you give him your paw?"
Clearly, Scott isn't as easily amused as we are, probably because he's afraid he might end up killing his BFF/trusted sidekick. "What if I go to sleep one night and it's you I end up killing? How would you feel if I killed you, Stiles?!" Stiles, in all his Seth Cohen-esque glory, answers, "I'd prefer not to feel anything really. I have a very low tolerance for pain." 
Have we mentioned how much we miss Stiles? 
Teen Wolf's season one DVD set hits stores May 22 and season two returns to MTV in June!