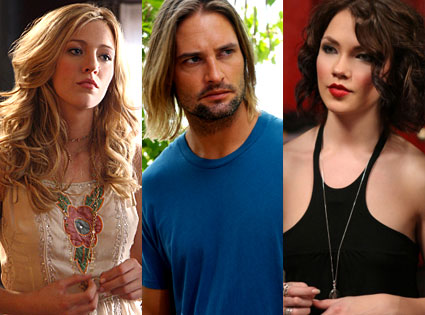 Eric Liebowitz/The CW, Art Streiber/ABC, Michael Desmond/The CW
Marc in Lexington, Neb.: What's the dirt on Dancing With the Stars?
I'm hearing this season's biggest diva is the last person you would ever expect: the show's resident teddy bear, Warren Sapp. Word is, he actually has his own special water in his own special watercooler on the set, and everyone else (crew and cast) is strictly forbidden from touching it. Love it! In the meantime, don't forget to check back tomorrow morning for our new weekly installment of DWTS goodness, with exclusive odds/predictions and your chance to make me look dumb. (Dumber?)
Teresa in Rhode Island: What is the deal with the photo of little Jenny kissing Nate on Gossip Girl?! Is she stealing everything from Blair? Are they actually a couple?
Dara Kushner/INFphoto.com
Oh, you mean that eye-popping photo to the left?! Jenny actually has the most outrageous storyline of everyone coming up...Keep reading to the spoiler section. Our wittle girl is all growed up!
Andy in Seattle: How about some love for Lipstick Jungle?
Gladly. Sources tell me Rosanna Arquette is coming on the show this season and Rob Buckley (Kirby Atwood) isn't going anywhere. Looks like Nico (Kim Raver) found herself a permanent boy-toy. And they say true lust can't last!
Sandra in Lima, Peru: I have a weird question: Why is the next new episode of Grey's Anatomy airing in two weeks? Is it because of the two-hour premiere? How about some scoop on that episode? Maybe the reason why the flood started and what will it do?
Grey's is off this week because of the American election campaign: the vice presidential debate is this Thursday. (Most major networks will preempt their regular programming for Biden vs. Palin.) As for the flood, it's caused by a good old-fashioned plumbing leak.
Megan in Austin, Texas: Any Reaper scoop to share? Marc Malkin on E! Online says the actor Armie Hammer, who is playing Batman in a new movie, is currently in Vancouver working on the set of Reaper, where he plays the son of the devil! What?! What about Sam being the son of the devil? Have you been holding out on us? Spill!
It was news to me, too! But the CW has confirmed Armie's casting, saying, "His character is named Morgan, and he is exactly what you think the devil's son would be like." Gaaah! I cannot wait for this show to return midseason, and in the meantime, the CW peeps kindly gave us an exclusive photo to share with you of Sam meeting the devil's son. (Whether Sam is also his son remains to be seen.) Check it out...Looks like the Dark Lord mated with an Amazonian basketball player...
Carol in Belt, Mont.: What about Life?
It returns tonight at 10, and it's still fantastic. Donal Logue is great as Crews and Reese's new boss—he thinks Crews is a nutter, and he quickly develops a crush on Reese. Plus, Reese is finally getting wise to her bad dad's wicked ways, and she confronts her daddio about Crews' wrongful conviction in what is easily one of the series' best scenes to date.
Teri in Toronto: Can you tell me anything about the season premiere of Private Practice? I miss my good friend Addison Montgomery...
Except for a little wibbling at the top of the episode, Addison is the amazing hero we know and love in the season premiere. The show was not my fave last season, but this premiere genuinely feels strong and refreshed, like the show's been staying at Canyon Ranch since we saw it last. Storywise, Cooper blows off Violet in favor of sex with Charlotte, Dell quits the practice and Addy is crazy angry with Naomi for making an unethical choice about a patient. Also, Amy Acker from Angel is the main patient in the ep, and she does her usual sterling acting job.
Melinda in New Jersey: Regarding The Office, a few requests, please: Do not tell me there is any trouble ahead for Pam, Ryan the douche bag is sticking around or Holly is leaving!
I won't tell you any of those things. Here. Keep reading further down—and bring a strong stomach...
Lynn: I'm dying for some solid Lost scoop! Specifically about the Left Behinds, is there anything can you give me?!
They're going to make us sweat out the fate of Jin. We won't see him at all for the first three episodes, and it's not until episodes four and five that we'll really understand what happened to him when the freighter exploded. I am actually slightly concerned that he's dead and just hanging out on the Island in tangible-ghost form à la Jack's dad. And if that's the case, Damon Lindelof and Carlton Cuse, I am coming for you.
Rebecca in Ipswich, Mass: I'm dying for Lost!
Me, too, and hey, this just in (literally as I was hitting the button to publish this): I'm now hearing from sources that Jin will be found Leo DiCaprio-in-Titanic style, floating on a door. Alive or dead? We shall see! Place your bets below. (And personally, I'm grateful at the moment that the Island's waters don't seem too frigid.)
Rachel in Aberdeen, S.D.: I'm so glad Desperate Housewives is back, and you were right, Neal McDonough is nuts! Any details on what'll happen with him this season?
You ain't seen nothing yet! Dave is hunting someone down on Wisteria Lane, but someone will be hunting him as well. Mrs. McCluskey teams up with her sister (Lily Tomlin) to find out why Dave Williams is so devilishly nice and mysterious. Kathryn Joosten told me Dave gets so crazy that Mrs. McCluskey actually goes into hiding for part of the season.
Marc in San Diego: Dexter please!
Dexter is going to do a bad, bad thing in the next episode, and Jimmy Smits is going to love him for it. It's insane.
Wanda2Saints: So what's up with Hiro and Ando?
Hiro and Ando are headed to the lockup known as Level Five (where Angela and her cronies keep the likes of Sylar and other villains), but they are not going of their own accord...
Mike in Mesa, Ariz.: Will Kristen Bell be in any of the future Heroes episodes, or did her arc complete with the season-three premiere?
Kristen Bell will be definitely back, and when she returns, we see that Elle has quite literally been on the fritz—her power keeps overloading and blowing out of control—and she'll turn to Claire for help.
How about a little Gossip Girl?
Oh, twist my arm! I love that show, and I'm hearing that episodes six through 10 are amazing. The sixth ep is where Serena and Blair go to Yale and get in a physical catfight. (Is it sad that I'm looking forward to this more than any other TV event right now?) Also, Serena really starts falling for Aaron Rose, the artist I told you about whom she knew when she was younger. Looks like S is most def into creative types.
Francesca: What's the deal with Jenny and Nate?
It's on! Duh. That photo is no joke. And I can tell you that Jenny is growing up in more ways than one this year. Sources tell me she might be dropping out of school to start a big, fancy career! What will Rufus say?
Francesca in Miami: Any word on Top Model? I'm rooting for anyone but Clark.
The more I hear, the more I'm convinced it has to be Elina. I've also heard that Lauren Brie goes far but is a bit...boring. And interesting note on Clark (who doesn't bother me at all!): Her appearance changes a tiny bit and gradually as the season goes on because of something she did before coming on the show. I can't be more specific on this one, sorry, but post your guesses below!
Lisa in Cleveland: I love The Office! Got any more Pam and Jim goodies for me now that the engagement is under way?
We kind of know this, but...Jim wants Pam to have his babies! That said, the separation is not doing them any good. As Jenna Fischer puts it, "We have to deal with real relationship problems." Well, now, those don't sound any fun. Nor does the news I'm hearing that Ryan will continue to be a thorn in Jim's side for quite some time up at that receptionist desk...and that Holly won't be around the whole season.
Thea from Indonesia: Can you tell me what's in store for Andy-Angela-Dwight on The Office?
The good news about Phyllis knowing about Dwangela is that when Angela and Andy set a date to get married, at least Dwight has someone he can (theoretically) confide in. And yes, did you catch that? They are setting a date. I see a hot monkey sex session in Dwight's future! Still, I can't imagine she'll go through with the wedding, right?
Dyan in Cambria Height, N.Y.: I can't believe both Gio and Henry are gone! There's a serious lack of male hotness on Ugly Betty now. Please tell me there will be some relief!
Do you remember the sexy, albeit suicidal, Captain Gault (Grant Bowler) from Lost? Grant will be playing Meade's new CFO, and he tells me his character "is a bit of a maverick and is very, very good at what he does. He manages to place himself squarely between Daniel and Wilhelmina." That's what she said? And in other hotness news, look for an Eddie Cibrian shower scene!
Mischa in Orange, Calif.: More Ugly Betty please!
Have you seen the new web series called Mode After Hours? I am in love.
Sue in Madison, Ind.: I cannot wait for Pushing Daisies! I have missed Ned, Chuck, Olive, Emerson and Digby!
It's back this Wednesday! Ned's dad is going to pop up in the premiere, though Ned just doesn't know it yet. Speaking of fathers, watch for Emerson to try and track down his missing daughter this season. Chi McBride told me at the ET/People post-Emmys party that the audience will be seeing her before Emerson does, and that there's some serious baby-mama drama.
Rob in Tempe, Ariz.: Any cases we can look forward to this season on Pushing Daisies?
Trouble is afoot at Olive's nunnery, so the gang will be going undercover in an upcoming episode. I'm pretty sure that's when we'll hear Kristin Chenoweth sing The Sound of Music, god bless her perky little awesome soul.
Riley in Dexter, Maine: Chuck comes back tonight! Tell me you have some scoop!
Chuck and Sarah are in for a roller-coaster ride this season: They get together because they think Chuck is going to be free, they flirt with third parties (her ex-BF and his ex-roomie, Bryce Larkin, and Melinda Clarke as foreign operative Sasha Banacheck), and then they realize there's no getting out of it: Sarah has to be Chuck's protector and not girlfriend. Wahh! Also, Lester (Vik Sahay) operates like a crack-addled Dwight Schrute when he becomes assistant manager of Buy More, and it's pretty funny...
J.R. in Oceanside, Calif.: I'm so bummed on Thursdays now with no new Burn Notice eps. Can you tell me anything about the winter eps to tide me over?
According to Tricia Helfer, "Carla's going to get a little rattled—it's unlike how we've seen her before, a little bit off her game. But she responds quickly and gets back to her regular self." And if you didn't see it already, check out my dish that either Michael Weston or Carla are getting shot!
Sarah in Buffalo, N.Y.: Any scoop on True Blood? I am obsessed!
Nelsan Ellis, who plays Lafayette, told me a "big name" is going to be introduced as Lafayette's vampire-blood supplier and boyfriend. Guesses?
Lisa in Virginia: I saw that David Duchovny admitted himself to a sex-addiction program. Is that true, or is it research for Californication?
For better or worse (I'm going with the former), I know zilch about David Duchovny's personal life, but I can tell you Hank Moody is going straight this season! Or at least he's trying...Music mogul Lew Ashby (Battlestar Galatica's Keith Callum Rennie) offers Hank a gig ghostwriting his autobiography, and in the course of doing that business, Hank is regularly offered up free sex on a platter—including another shot with tricksy trick-turner Trixie (Judy Greer)—but he turns everything down because he wants to be faithful to Karen (Natscha McEhlone).
George: One Tree Hill?
Owen returns and tries to win Brooke back. And Gigi, Mouth's former intern, returns and tries to get between Mouth and Millicent. Scandal!
Fawn: What we can expect for Sam this season on Supernatural?
After seeing Thursday's episode, "In the Beginning," I think it's fair to say that this season Sam has a problem, and it will be the major arc of the year, much in the way Dean's damnation arc played out through most of last season. It's a bit of a heartbreaker, not to mention practically a love letter from Kripke to all you Winchester-mythology-lovin' fans.
Melanie in Lake Tahoe, Calif: Hey, what about Brothers & Sisters? I loved the premiere! Are they going to find Ryan?
Yes, as I previously reported, Jason Ritter came in to meet with casting folks regarding the role of Ryan, but they are considering other names as well. Regardless, Nora will be put in charge of whether to find Ryan, and she and Holly will end up doing the deed. Also, Rebecca's gonna give Nora a crapload of cash, and Kitty's new book, which trashes the family, is not going to go over well.
Meredith in La Jolla, Calif.: Got any goodies on Sons of Anarchy? What's up with this Agent Kohn guy?
According to Charlie Hunnam, "Kohn was definitely part of Tara's life in the past, and he is a guy that she is finished with, but he's not really taking no for an answer. Over the course of a couple of episodes, it becomes more and more evident that she has this secret, and once the secret unravels, I decide that maybe I should intervene a little bit. It gets pretty spicy between us." And by spicy he means there will be mondo violence.
Larry in Gainesville, Fla.: Last night's episode of Cold Case was awesome! What's coming up this season?
Kat Miller (Tracie Thoms) will finally be getting a love life this season. Also, producers will be focusing on the consequences of sloppy detective work. Wonder if the slobs are the old-case detectives or our guys?
Fabricio from San Francisco: Do you have any information about John and Cameron's relationship on upcoming episodes of Terminator?
Don't get your hopes up for anything too explicit—John is focused on Riley this season. Thomas Dekker told the crowd at the Golden Apple fan event that he enjoyed playing John's "inner emotional battle" with his feelings for Riley. In other John news, apparently episode five is a big one for John and Derek's relationship. According to Brian Austin Green, it's good, but, "All I can say is that it's 52 minutes and sponsored by Dodge." Hee.
Kate in Ann Arbor, Mich.: Anything on 30 Rock? I miss that show like crazy.
Don Geiss comes out of his coma before too many episodes pass and again crushes Jack's CEO dream. Also, Tracy freaks out when Kenneth the Page starts being funnier than him.
—Additional reporting by Jennifer Godwin and Natalie Abrams