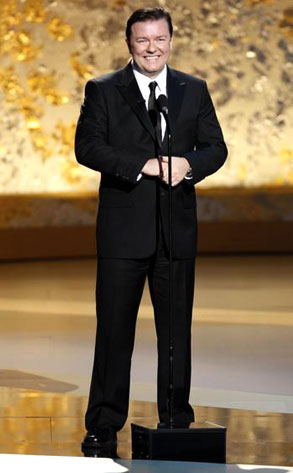 ABC/TIM OGIER
Let's hope Ricky Gervais wins an Emmy next year for his appearance on this year's Emmys. So obviously the real star of the show every moment he was onscreen; the sarcastic Brit had more presence than all five hosts (save for Seacrest, 'course, not like we're supposed to say that). Who wants to start the petition to make Gervie next year's host? R.G. has already made a living portraying people so similar to himself, which is usually enough to make everyone chuckle into hysterics.
"I don't do accents, I don't wear wigs," Rick told us right before doing the show Sunday night. "The thing is, if you wear a wig or makeup, you have to wake up early, and I'm staying in bed, so I use this hair, this face and this accent. I don't care if it works or not, but I'm not going out of my way for anyone."
So besides entertaining on Emmys night, what are British people better at than Americans? Rick-hon thought for a sec: "In the Olympics we [win] all the posh sports. Like rowing and equestrian—the things you have to be born into privilege to be able to start." Funny, in America, if you're born into privilege, there's no time to learn any sports since you're too busy filming your own reality show. Très amusing.
Unforch, Ricky didn't win against Paul Giamatti's John Adams, but the bloke's got other accomplishments where it matters: "I cowrote a song with [Extras guest star] David Bowie, that's not bad is it?" R.G. wondered. "I think John Lennon did as well. Me and John Lennon. I'm the same as John Lennon."
In honor of Gervais' stealing the whole damn show, here are some other quotes from our Emmy-weekend vault we just couldn't keep to ourselves: