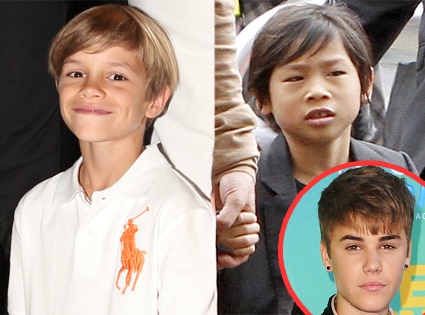 Christopher Polk/WireImage; Fame Pictures;
Oops!

Justin Bieber accidentally mistook Victoria Beckham's 9-year-old son, Romeo, for Angelina Jolie and Brad Pitt's 8-year-old son, Pax, recently.
So what happened?
The 37-year-old fashionista explains to Vogue that for Romeo's birthday, the family arranged to visit the pop star at his music studio. Afterward, Justin sent the boys signed guitars, but Romeo's was signed to Pax.
"So we got one of the Jolie-Pitts' guitars," Victoria says.
 The working mom revealed that she and hubby David Beckham travel often but that they "make sure our schedules revolve around the kids."
It was largely because of Romeo, Brooklyn, 12, Cruz, 7, and Harper, 8 months, that the family decided to stay in L.A. rather than move to Paris.
"It would have been fun for David to play in Europe again—he's not getting any younger," she says. "And Paris would have been very exciting for me, career-wise, but we came to the conclusion that it's all about the children—they're the most important people here."
We're glad they decided to stay in L.A.—how about you? Tell us in the comments!