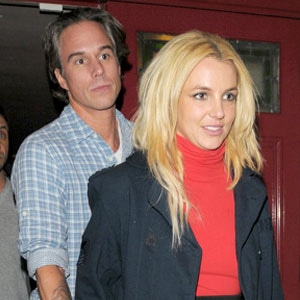 Fame Pictures
Britney Spears is in the building, y'all!
The engaged pop star turned up in court this morning for a hearing on her seemingly never-ending conservatorship.
So, what happened?
Well, Britney—wearing a fuschia top, black jacket, white flair pants—was accompanied by her father, Jamie Spears, fiancée Jason Trawick, a scrum of bodyguards and the de rigueur (for celebrities, anyway) assembly of sheriff deputies for her appearance at the Los Angeles County Superior Courthouse this morning.
Britney's attorney wasted no time in asking the judge to seal the courtroom at the start of the 8:30 a.m. hearing to allow for a private discussion of the singer's "medical issues and financials." The request was granted and nothing was on record in front of Judge Reva Goetz.
The hush-hush hearing had been on the books for some time and while no details were disclosed about what happened behind closed doors, the court clerk told E! News that another hearing was scheduled to take place in April.
However, while today was just a progress hearing in the lengthy case (Britney has been under the conservatorship since 2008), sources tell E! News that Spears' attorneys and conservators have been working together to get a plan in place to transfer control of her estate back to Britney.
"That's the goal," the source said.
The lengthy and "complex" process could potentially take place later this year and while Britney's looming wedding is not the impetus behind the power transfer, it is certainly a factor pushing it along.
The source says that Britney herself is confident in her capacity to take back the reins of her life, but that there are various financial and legal reasons why the conservatorship remains in place.
We hear that her current visitation arrangement with her sons, Sean and Jaden, is pursuant to the conservatorship as it stands. Ex-husband Kevin Federline still has primary custody of the boys.
—Reporting by Ken Baker