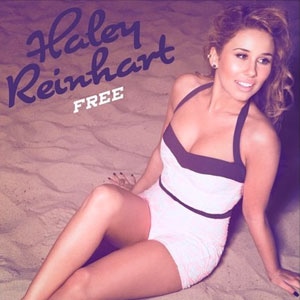 Interscope Records
She's ba-aaack!
Over a year after first putting a spell on the American Idol audience with her soulful sound (the growl totally helped), Haley Reinhart is returning to the Fox hit show's stage tonight. Though she finished in third place last season (cough—robbed!—cough), it doesn't really matter as Reinhart's album is set to drop this May and she's performing her new single "Free," which has already cracked the Top 100 singles in iTunes...before heavy promotion for the song begins...which it does tonight. 
We caught up with Reinhart to talk about returning to the Idol stage, her favorite Season 11 contestant, her debut album "Listen Up!" and her upcoming guest appearance on the CW's 90210...
You're performing on Idol tonight. How does it feel to be back? 
It is crazy! It feels so long ago and it feels like yesterday at the same time. I haven't gone back to the studio, like CBS and everything, once. I can't even tell all the emotions I'm going to be feeling, but I know I'm going to run into all these familiar smiling faces. I can't wait for that reunion. That's like family right there.
Do you have a favorite so far from the season 11 contestants? 
Of course Jessica Sanchez.  I mean, come on. Since I saw her the first time and I definitely remember Vegas, I was like just like, wow, this chick better get to the top because she's got it.
You're performing your new single "Free," which was just released on iTunes a few days ago. How was that night for you?
 I checked it out at midnight, made sure I stayed up. I just felt like it was Christmas the next day. I was waiting and tossing and turning. I couldn't wait to actually check out to see the charts. It's pretty cool just watching it climb after only the first day it came out. I'm just really excited to see what happens, especially after we do a lot more promotion for it. Things like 90210 and Idol again. It's so exciting.
Your album "Listen Up!" drops May 22, over a year after your season of Idol came to an end. What were you trying to accomplish with your debut album?
I wanted to make sure that it had a lot of substance to it. I wanted it to touch on a lot of different genres and still have it be catchy pop undertones, but just definitely keep true to myself and what I'm doing and have it reach out to people. So everybody knows, 'She's not just wanting to sell out for the fame.' I'm here for the music. 
"Free" definitely has a retro-soul feel to it, so can we expect the rest of "Listen Up!" to have that same vibe?
I think you hit it on the head. Pretty much all the music, you can define it as retro-soul. There's just a lot of other elements involved. It can go from a little bit of rock to funk and there's hints of jazz in there. But definitely sultry soul is my thing, so I try to stay true to that throughout the whole thing.
Did you write most of the songs on the album?
I actually co-wrote everything other than "Free," which just so happened to be the first tune that I picked up and recorded while I was touring with the Idols. I heard the first piano parts and I was like, 'OK, I already know this is something I can sing to.' It totally grew up on me and I just think there's something really captivating about it.
You also have an upcoming guest appearance on 90210. How did that come about? 
It's a really long story. The character Dixon (Tristan Wilds), it was supposed to be me and him doing another tune actually. Him doing a rap part, but he ended up getting sick, like in real life, really sick. He got the Valley fever and that's terrible. We changed the song to "Free," which works for me, but I didn't get to meet him at all. We changed the script to make him backstage. I hope he's doing better. Everything else about it, working with Jessica [Lowndes] and the rest of the crew, everybody was really, really sweet people. They run a tight ship. It was really cool to be a part of. I love acting. This was fun just to get back into it.
Was the song you were originally supposed to perform off your album?
Yeah. It was actually "Oh My" because there's a rap part in it.
Any other shows you'd like to guest star on in the near future?
I don't know. Maybe some movies, not shows. I always watching all the Kill Bills. I'd like to be in Kill Bill Vol. 3,400, you know? I think it'd be fun to play a crazy part. Angelina Jolie stuff, Girl Interrupted, that kind off stuff just seems like a lot of fun.  
Haley's episode of 90210 airs March 28 at 8 p.m. on the CW. She hits Idol tonight. And may we suggest a side-split in her dress?