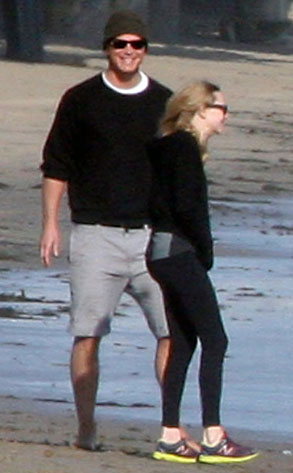 Bauer-Griffin
Not a bad-looking pair, huh?
Amanda Seyfried and Josh Hartnett spent some quality time together at the beach in Malibu yesterday.
Seyfried went supercazh in a body-hugging black workout outfit and running shoes, while Hartnett wore grey shorts, a beanie and a black sweater. Both stars were all smiles as they stayed close on the shoreline.
But the rumored new couple wasn't alone for their afternoon jaunt. They brought along two very special individuals...
Their dogs!
Hartnett's adorable black-and-white pup had a playdate with Seyfried's beloved rescue dog, Finn.
If the actor, 33, wants to get serious with the In Time actress, 26, he better get along with the top dog in her life. "I treat [Finn] like a child," she gushed to Jay Leno on the Tonight Show last year.
"I can't wait to have kids," she added. "I love spending time with babies and daydreaming what it's going to be like for me."
Not to jump the gun, but we think Amanda and Josh would make some beautiful babies!