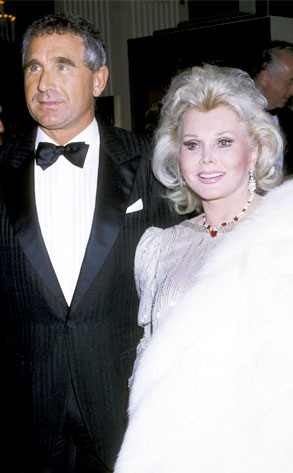 Ron Galella/WireImage.com
The Gabor family feud is heating up.
Zsa Zsa Gabor's only child wants a judge to allow her to take over caring for the ailing Hollywood socialite.
Constance Francesca Hilton submitted a petition on Tuesday in Los Angeles Superior Court requesting a conservatorship be appointed for the 95-year-old Gabor on the grounds her  mother's husband, Frédéric Prinz von Anhalt, has been keeping Gabor "increasingly isolated" and "heavily sedated."
Hilton's lawyer, Kenneth Kossoff, tells E! News his client took the legal action to ensure Gabor gets the right care while also protecting her finances.
"What Ms. Hilton is seeking here is for the court to make sure that Zsa Zsa's best interests are not being sacrificed for the selfish interests of anyone involved in Zsa Zsa's life," Kossoff said.
Per the filing obtained by E! News, Hilton accused von Anhalt of restricting access to Gabor in the wake of her deteriorating health and the Hungarian-born actress—who broke her hip in a fall in July 2010 and had her right leg amputated a year ago due to gangrene—is suffering as a result.
"My mother's husband has increasingly isolated my mother from others who have been close to her," Hilton said in court papers. "Before she broke her hip, my mother and I spoke several times every day. Since she broke her hip, her husband has removed the telephone that used to be by her bed."
What little Constance has seen of Zsa Zsa hasn't been pretty.
The petition states that during two visits in November and February, Gabor, who's confined to a bed, appeared "heavily sedated" and had "remnants of some bedsores" and "lesions" on her face.
Hilton also says her mother can't feed herself or direct the preparation of food; can't dress herself; and "is unable to understand the medical treatment options available to her."
"I also believe that my mother now may suffer from a loss of intellectual and emotional faculties, which may be induced by the medication my mother is being given," said Constance.
According to the documents, Hilton also raised issue with von Anhalt taking out a loan against the Moulin Rouge star's $10 million Bel-Air estate despite the fact the property is now in foreclosure after he failed to keep up with Zsa Zsa's mortgage payments. Constance also noted that the couple have a premarital agreement and "never allowed her husband to access her funds."
Hilton's petition wants Gabor to be evaluated by "competent and independent medical professionals" to make sure she's being properly cared for.
An attorney for the prince was unavailable for comment. But the prince previously told CNN that he doesn't allow his stepdaughter so much access because she's something of a downer.
"I want smiling people in here, happy smiling people," von Anhalt said.
—Reporting by Baker Machado