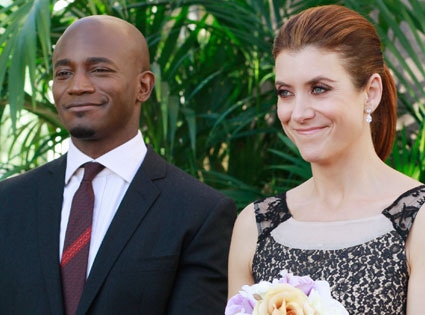 ABC/RON TOM
"Now that would be one beautiful baby!"
So says creator Shonda Rhimes about the possibility of a long (understatement!)-awaited bambino for Kate Walsh on Private Practice with potential daddy numero uno, Taye Diggs. So is there a chance Shonda has been casting their babies?
Plus, get the latest on How I Met Your Mother's record-breaking baby episode, the fate of Penny and Leonard on Big Bang Theory, a trifecta of Lea Micheles on Glee and more...
@Melisa_Bas  Any AddiSam and baby scoop? Please!!!!! #spoilerchat
Well, we know that Private Practice has been looking to cast babies between 6 weeks and 5 months old who have one Caucasian and one African-American parent. So naturally we can only assume (OK, hope, plead, beg and make bargains with God) that this has to do with Addison and Sam, right? Well, the plot thickens because when I specifically asked Shonda Rhimes about this casting, and whether it had something to do with AddiSam, she paused and said, "I do not want to clear up that rumor. I just like babies!" She also commented that if Sam and Addison were to procreate "that would be one beautiful baby." Preach.  Shonda also gave this fascinating heads-up on the remaining episodes this season: "I feel like I want to warn people: There's a lot of things that are going to happen on Private Practice that people did not see coming. I think some of them are going to be fairly stunning. I don't know what else I can say about that. Some of them are really good and some of them are really bad."
Nathanael Jones/Jeff SteinbergPacificCoastNews.com
LeaBelle: You know because I ask every day: Glee scoop!
Is Rachel Berry (Lea Michele) about to meet her match? Maybe! Glee is casting a trio of characters described as over-achievers who wear lots of tweet and plaid. One is even described as a cross between Rachel Berry and Patty Simcox from Grease. Unfortunately, we'll have to wait until episode 19 to find out why we'll be meeting a flock of Berry's. Maybe something to do with NYADA?
Brooke: Tell me about the amazing Billie Joe Armstrong guest starring on Nurse Jackie!
Well, Jackie (Edie Falco) pretty much seduces him in one sentence, which is quite impressive. But unfortunately, this coupling up does not end on a good note. An exciting note, yes. A good note? Hell, no. A romance we could see happening? O'Hara (Eve Best) and new doc on the block Dr. Cruz (Bobby Cannavale).
Jordan: After last week's episode of One Tree Hill, I'm dying to know what's to come in the last three episodes of the series! Any hints?
You know that's the perfect question for Dan Scott, aka Paul Johansson. It's a good thing we're chatting with him today, right? Leave us more questions for the biggest OTH villain ever in the comments!
Jessica, in Miami: Any Big Bang Theory info? I am sooo sick of this back and forth with Leonard (Johnny Galecki) and Penny (Kaley Cuoco)!
We are right there with ya honeychild and apparently so is Big Bang honcho Chuck Lorre! When we caught up with Lorre we made sure to ask what's coming up for our favorite beauty and the geek couple and he said this of their future: "That relationship is going to have to find its way forward or get out." Sounds like it's going to be all or nothing people! Which way are you hoping the electrons will turn? 
Sophie: Anything on Vampire Diaries? #TVD
How about some season-three finale scoop? Thanks to Ian Somerhalder tweeting a photo of the front page of his script,we found out the title of TVD's final episode! The finale shall be called "The Departed." Intriguing, no?
MichaelB: Some HIMYM would be legen...wait for it…
We hope you're not lactose intolerant because the second part of that word is dary! Well that was fun, now for some scoop: We just chatted up the lovely Alyson Hannigan and she told us to get excited for the "action-packed" arrival of baby Ericksen. "We shot 31 scenes in one day which has to be some sort of Guinness World Record because it just killed us all." We're thinking this has something to do with Marshall's (Jason Segel) journey from Atlantic City to get to Lily in the hospital. The real life mom-to-be teases, "It's going to be funny…the writers are just hitting it outta the park this year!"
The Spoiler Chat is now daily! Send us your Q's via tvdiva@eonline.com, or via twitter, @kristindsantos!
—Additional reporting by Jenna Mullins and Leanne Aguilera