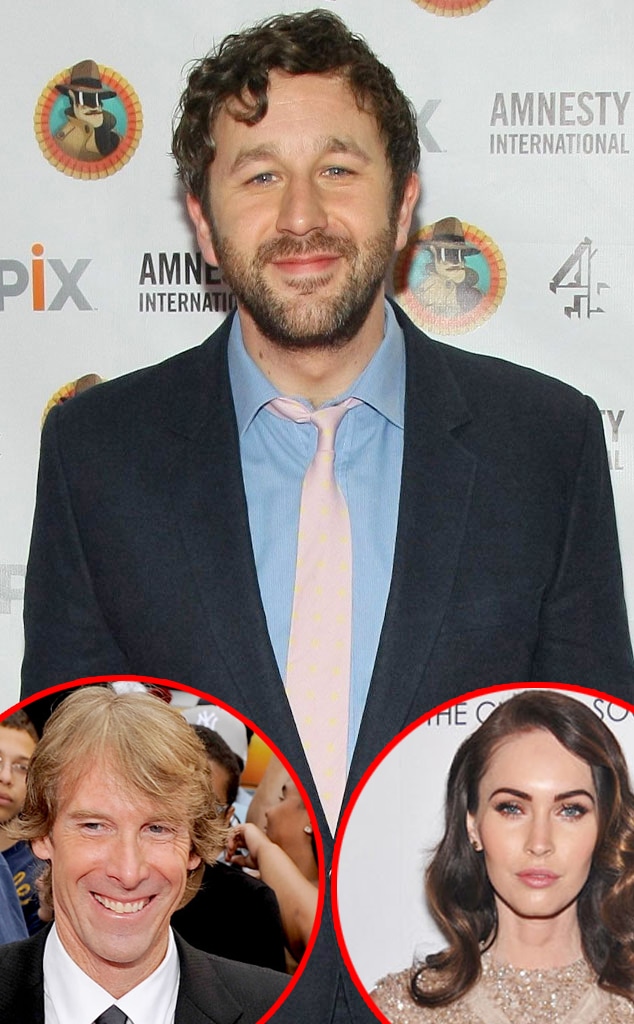 Neilson Barnard/Getty Images; Jemal Countess/Getty Images; Dimitrios Kambouris/WireImage
Chris O'Dowd is one mighty transformer!
Just a few days after catching major heat for reportedly calling Transformers director Michael Bay a "f--king a--hole" while defending his Friends With Kids costar Megan Fox, the Irish funnyman is changing his stance.
The actor has come forward with a full-fledged apology to the director, introducing himself as "Chris O'Dowd here, [or] as you probably know me, that loudmouth Irish s--t."
OK, you've now got everyone's attention, Chris.
So what, pray tell, is behind this whole misunderstanding?
In a letter to Bay, which the director published on his website, O'Dowd humbly trots out a mega mea culpa.
"Please know this, I never called you an a--hole. For one, I don't know you, and secondly, in Ireland, we say 'arse,'" O'Dowd writes.
"More importantly, I never called you sexist. I was quizzed as to why Megan Fox is considered such a nightmare to work with (which was not my experience when I worked with her twice this year), and what I actually said was, 'The way the press gleefully dealt with the firing of a young woman was one of the most sexist things I've ever seen. People shouldn't revel in seeing anyone lose a job. The dismissal of an old male actor would never have been welcomed with the same joy and ridicule."
That's quite a change for the Bridesmaids star, who, in a widely circulated interview with the Toronto Sun last week, said of Bay, "Who wouldn't have a fallout with him?...It's one of the sexist things I've ever seen. She called him an a--hole. Well, he is a f--king a--hole. She's not the only one who has said that. Why has she been singled out?"
Today, however, a contrite O'Dowd seems to be chalking up the verbal boo-boo to naïveté.
"It was naive of me to assume a remark aimed at the sexism in the entertainment press would reach its target in the entertainment press," he continues to write in his apology to Bay. "I'm new to all this and that was stupid of me. You clearly got caught in the crossfire and I'm sorry about that…It was always unlikely we'd ever work together given our differing genres and my own general physical ineptitude. But I hate the idea of offending anyone unnecessarily, that's really not me. So please accept this apology with the sincerity from which it comes."
Classy move there. Plus, do you really wanna piss off a guy who's made a career out of blowing things up?