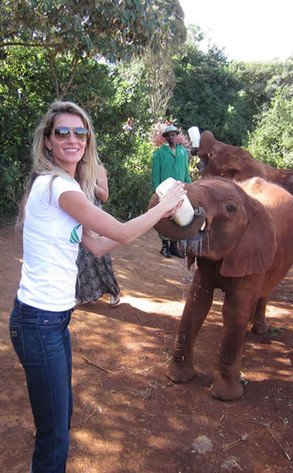 Gisele Bündchen wears many hats—supermodel, wife, mom and now elephant whisperer!
The environmental activist recently spent some time with groups of orphaned baby elephants at the David Sheldrick Wildlife Sanctuary in Kenya.
But Gisele didn't just watch from afar—she got up close and personal with nature, even bottle feeding a baby elephant.
"I feel so blessed to spend time with these gentle giants," she wrote on her blog. "I met a baby elephant who was only two months old and had just arrived at the sanctuary. He touched my heart. He was shy, scared, and still traumatized from losing his mother. He was not ready to be playful with the other members of his adopted herd. He was so sweet, looking for a little love…"