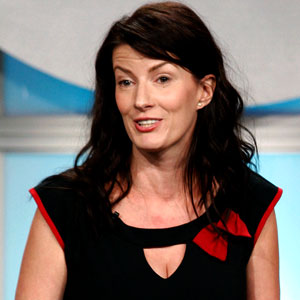 AP Photo/Matt Sayles
This one goes out to all you superfans out there: Diane Ruggiero, the former Veronica Mars producer who left her post running CBS' The Ex List about a week ago, has taken a job on Rob Thomas' remake of Cupid, the ABC series about a mental patient who believes he's the Roman god of love (now starring Bobby Cannavale and Sarah Paulson).
"She starts today for me," Rob tells me this morning of Ruggiero. "I couldn't be happier."
That makes, oh, let's see, all of us, because as you may remember, Ruggiero is the reason we so highly recommended Ex List initially—she is a funny and fierce creative force to be reckoned with, and under her direction, that show was deeply entertaining and likeable. She quit The Ex List after too much creative meddling from CBS and vowed to never work there again.
Ruggiero worked with Thomas on Veronica Mars as co-executive producer and helped voice the character we all loved so much.
So bottom line: After all the underwhelming previews of new series this fall (Ex List pilot being one exception), midseason is starting to look up.