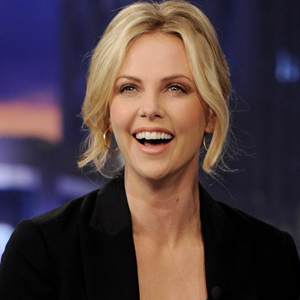 Kevin Winter/NBCUniversal/Getty Images
Charlize Theron may be in baby bliss, but at last night's Human Rights Campaign gala, the gorgeous actress had one thing on her mind—Michael Fassbender's man-parts!
While accepting her Ally for Equality Award from Fassbender, Theron couldn't help but gush over her Prometheus costar's very impressive manhood...
Referencing Fassbender's full-frontal work in Shame, Theron quipped, "I have to say that I was truly impressed that you chose to play it big. Most other actors would have gone small, trust me. No, I know because I've worked with them."
The Oscar-winner didn't stop there. "Your penis was a revelation," she said to the howling audience. "I'm available to work with it any time."
On a far more serious note, Theron was honored during the gala for her advocacy work with the LGBT community. "Marriage equality is about more than just marriage," she said in her acceptance speech. "It's about something greater. It's about acceptance...I will always be your cheerleader and I will always be your friend.
As for her newly adopted son Jackson, the 36-year-old gushed to E!, "He's doing great. Its very hard for me to leave the house now so you know how important this is because I was like standing at the door going, 'Ah, this is so hard!'"
Theron's pal Chelsea Handler hosted the bash.
"I love Charlize," Handler told E!. "She's got her little baby now, she's a mother. That was almost a reason I stopped being friends with her because I try not to be friends with too many mothers, but we worked through it."
So its safe to say the comedian won't be on any babysitting duty?
"No," said Handler. "I don't think anyone would ask me to babysit."